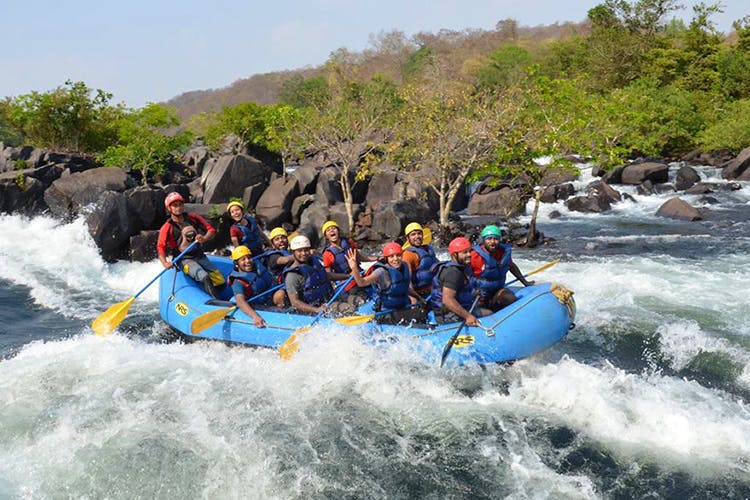 Trekking To Writing: Here Are The Best Communities & Clubs In Hyderabad
Ever wondered how amazing it would be if there were more people who shared your interests and actually had a whole club dedicated to it? Well, you don't have to wonder about it anymore because there are plenty of communities and clubs thriving in and around Hyderabad. Whether it's taking photo-walks or going on an adventure filled trek, there's so much to do and what makes it better is the fact that there are plenty of people, all dedicated to sharing similar interests and growing together as a rich, vibrant community. Here's our list of the top community clubs, in the city, and you need to join them ASAP!
SIA Weekend Photo Walks, Workshop, Photo Tours
Whether you learned from Youtube on how-tos with a DSLR or you're totally clueless about your new Nikon D300, it always helps to have someone around who's learning the tips and tricks just like you or teaching them (if you got the skills, coz' sharing is caring right?) and it really helps if there are more people who share your enthusiasm for capturing the still life. Learn about photography, explore your city and capture its essence in a different light along with fellow photographers with SIA Weekend Photography Club. The club was started by Saurabh Chatterjee and currently has over 3K members!
Hyderabad Trekking Club
Put on your boots! It's time to challenge yourself but also have fun along the way and HTC (Hyderabad Trekking Club) does exactly that. Connect with nature (and people, yes, because "we're all in this together", you know Zac Efron was singing it for a good reason) in the great outdoors with activities like rock climbing, trekking, hiking, and even camping under the moon (or stars, if you can spot them). The membership is absolutely free and is open to anyone who is above the ages of 18. Kids and teenagers aged 12-18 may participate with their parent's permission while 6-12 can participate along with their parents.
Cinephiles FILM CLUB
There are two kinds of people in this world — those who just watch movies and those who not only love watching films but also have a club dedicated to watching cinema. The Cinephiles FILM CLUb invites likeminded film aficionados to screenings showcasing best of world cinema. The club has to be known to screen works of Akira Kurosawa, Yashujiro Ozu, Andrei Tarkovsky and more in the past. Plus, they also regularly screen shorts. Cinephiles also conducts screenings where language is no barrier, but if it is for you, then check their events schedule before making plans. The membership is free, so anyone can join. The films are screened at various venues around the city such as Lamakaan in Banjara Hills and Phoenix Arena in Hitech City among other locations.
Hyderabad Stand Up Comedy Club
If you don't take yourself seriously that's okay because in this community neither does anyone else! Everyone here is out to tickle the funny bone and why not? With the hectic stress of life punching you in the face, it's time to stand up and deliver the best punch (line) right back (hey! no! Calm down there Muhammad Ali!). This group is all about making people laugh their hearts out and if you think you got it. The membership is free and anyone interested in stand up comedy can join in. There are different open mic events taking place here, so check their event schedule to know more. And you know what they say, either go haha or go home, no joke!
Write Club Hyderabad
To write or not to write? That's never the question if you're a writer. It's time to pick up a pen and a book and head over to Write Club. Their weekly meetups make sure you're well on your way to improve and sharpen your skills as a writer. You can become a member after attending at least three meetups which are free and further on, you can enrol for a membership there but even so as a non-member, you're welcome to participate and understand how the community works. Membership registration costs INR 250 (per annum) and can be done online on their website. The future of Indian writing now rests in your hands…err, or pens!
Hyderabad Poetry Project
Poetry is dead, they say but we say take them to this place and let them know that poetry is alive and thriving thanks to Hyderabad Poetry Project. A community of poets, spoken word artistes, and storytellers all come together to revive and reintroduce the beautiful art of poetry. There are plenty of literary events taking place, so be sure to check the schedule.
Madhapur Toastmasters
Raise a toast to an incredible speech and raise your public speaking skills with Toastmasters club located in Madhapur. A great club to polish up on your public speaking, meet up with fellow newbies and experienced members alike who'll help you develop and grow with feedback and critique.
Great Hyderabad Adventure Club
You're going on an adventure! Now you don't really need to wait for Gandalf to say that because the adrenaline is enough to get one going on an adventure of a lifetime. And remember you don't have to do it alone when you got a whole bunch of people out there joining you. From conservation of nature to scuba diving and exploring shipwrecks and caves, this club helps you meet different people and explore amazing places. Travel or volunteer or find what suits you best and just go with it because this community is all about variety.
Hyderabad Cycling Club
Bike to work or bike for leisure because this community is all about cycling and you know what's a plus? It helps you stay fit while cutting down on pollution. The club really encourages people to take a healthier approach towards both fitness and environment with events such as "bike to work" that serve as a training, helping you learn how to modify existing techniques to build stamina. Get together and get rolling on those wheels!
Comments