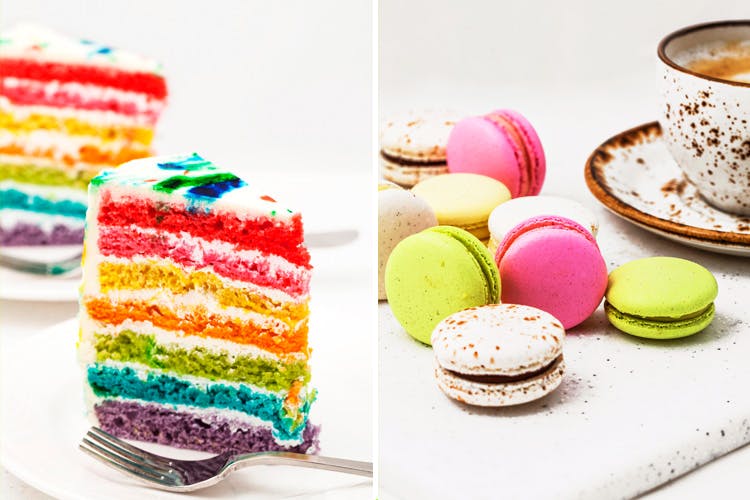 Sugar Rush: These Hyderabadi Bakeries Whip Desserts Like No Other
Chocolate, red velvet, and blueberry — does the mere mention of these make you go weak at the knees? Now we sure know that we love to indulge in them once in a while, and we have our list of go-to bakeries (Or bakers) who rustle up the most wicked brownies and pies in town.
Euphoria
Can we ever get bored of Faisal & Anita's chocolate brownies? Nope, we don't think so! With three outlets in the city, Euphoria even delivers at your doorstep, and if you are planning a Netflix night with bae, these are your perfect nibbles. Classic Chocolate, Chocolate Walnut, Chocolate Coffee — take your pick and brace yourself for a brownie frenzy..
The Dessert Box
The Dessert Box, located in Banjara Hills, is a treasure trove of sweet treats. Offering nearly 20 varieties including brownies, cupcakes, cookies, and cheesecakes, this should be your fix for desserts. Run by Fayrouz Zaidi, The Dessert Box has delicacies like Banoffee Parfait, Lindt Brownies, Pecan Pie (barely found in Hyderabad), Date Walnut Loaf. Don't forget to pick a box of Butterscotch Cookies too.

Trio- La Patisserie
This home bakery in Bowenpally, Secunderabad is where you can score some amazing banana bread, plum cake, truffles, and brownie chunk cookies. With gift hampers that come with chocolate, cupcakes, brownies, cookies, and flowers, we sure are going to gift ourselves one whenever we're down.
Dusk Miller Confectionery
Fancy cake pops and sponge cakes? We get our dose of these from Dusk Miller Confectionary, which is a tiny kiosk inside GVK One Mall. We can never get enough of the Victorian Sponge Cake and Pista Rose Mini Loaf; pairing them with our coffee/tea makes it even better.
Sweet Truth
This Sanath Nagar bakery packs boxes of happiness in the form of Gulkand Shots, Sicilian Red Velvet, Belgian Chocolate Cake, and more. An entire Big Belgian Chocolate Cake costs around INR 750, making it perfect for your sleepovers with your girl gang. Sweet Truth has several branches spread all over the city, so ordering is super convenient no matter where you live.
Comments