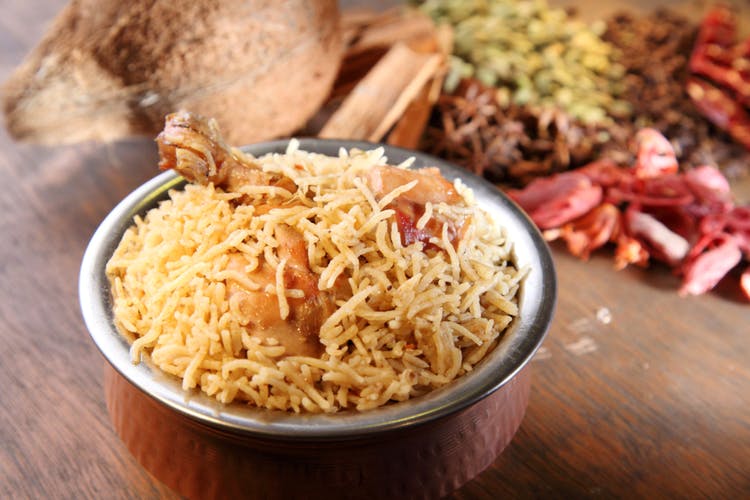 Battle Of The Titans: Do You Love Your Biryani At Cafe Bahar Or Meridian Cafe?
Shortcut
In Hyderabad, biryani is a religion, and we all are its followers. We asked some good peeps (our wonderful LBB users) to take a pick between Bawarchi and Cafe Bahar, but popular opinion stated it should be a war between Cafe Bahar and Meridian Cafe. And that's what this is. Who won? Read on…
Is Cafe Bahar A Step Ahead?
Started by a Persian settler who moved to Hyderabad from Mumbai, Cafe Bahar is a go-to for many Hyderabadis who enjoy the good things in life like Irani chai and biryani. A horde of loyal customers throngs the cafe throughout the day, and there is often a queue that stretches till the edge of the street. We were here for midnight biryani and asked for double masala in Hyderabadi Dum Biryani and what arrived was the most ambrosial dish — well-cooked chunks of meat, generous lashings of masala come together in making this biryani a top dog!
Verdict On Cafe Bahar: Finding a table at Cafe Bahar is legit a treasure hunt, and we think that itself proves its popularity. But that aside, the quality of biryani has never left us high and dry. Plus, the portions are large in size (Well played, Bahar!).
Is Meridian Emerging Too?
While Bahar has a cult following of its own, the loyalists of Meridian have broken their shackles of silence too. Solidly rooting for their favourite restaurant in Punjagutta, which has reopened after a renovation, the biryani connoisseurs are claiming that Merdian is back with a bang. We ask for the dum biryani and quickly a bowl of biryani is served on our table — quite meaty, spice level, and quantity (Not better than Bahar, though) give Bahar a stiff competition. Plus, it scores really high on location and accessibility.
Verdict On Meridian Cafe: Words alone cannot describe the flavour and consistency of raita. And if we order mirchi ka salan, it's a party you'd attend uninvited!
And The Reigning King Is....
According to our Facebook and Instagram polls, Meridian might seem like a possible winner. But several LBB users have silently pledged their loyalty to Bahar. At the end of 24 hours (Instagram poll), Bahar has emerged a winner with 80 per cent votes, leaving Meridian behind. Maybe Meridian has a small (but definitely strong) group of followers, and Bahar happens to have more. We'll do this again in a year and see if anything changes then.
Comments