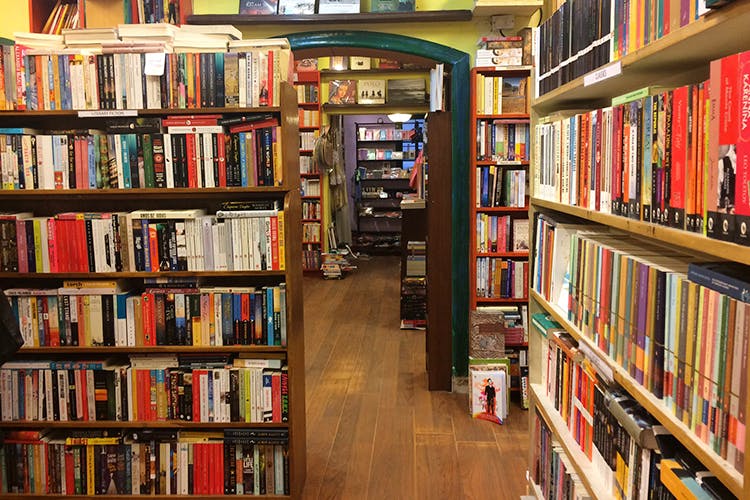 These Bookstores Should Be On Every Hyderabadi's Radar
If you think Hyderabad doesn't have a Blossom or a Bahrisons, we'll tell you that it's quickly catching up with the likes. Are you a reader in search of rare tomes and collectibles? We just know where to get them. And we are not talking about the seasonal Bookchor's exhibition but the hidden gems of bookstores in our own city. So, hit up these bookstores, discover rare books, and keep on reading!
MR Book Centre
MR Book Center, a 15-year-old bookstore, offers rare, unused, and old stocks of books at super discounted prices. Classics from Jane Austen, Leo Tolstoy, Victor Hugo, and more find a major place here and they are priced as low as INR 100 while graphic novels of Tom Sawyer, Nancy Drew, Agatha Christie (it's tough to find these in Hyderabad) are priced at INR 100 too. You will also find coffee table tomes and illustrated biographies of Frank Sinatra, Bruce Springsteen, Elvis Presley, Bob Marley, priced at INR 300 only. And the best part? The prices start at INR 20 only.

E Babaih Book Store
E. Babaiah bookstall, a little-known store, has been a favourite amongst those that know of it, and for those who did not…well, it's about to be. Books by the likes of Sudha Murthy, Nassim Nicholas Taleb, and Shashi Tharoor rub shoulders with regional (Telugu) books. If you've been looking for the works of Telugu writers like Vishwanatha Satyanarayana, Yaddanapudi Sulochana Rani, Malladi Venkata Krishna Murthy, Chalam, you can hoard them from here. That said, you will also find translations of popular novels. Although the collection might seem minimal, there is a godown upstairs that houses far too many books.

Akshara Books
Stumping your expectations of a regular Hyderabad bookstore, Akshara is known to receive new stock every day. So, find yourself gawking at the latest releases, and manga like One Piece (Priced at INR 499). The main hall of the store holds the bestsellers, latest editions, as well as collectibles; there are two other rooms, out of which one is dedicated for children and Young Adult Fiction, and the other for classics. We couldn't help but hoard, and also place a request for the books we'd love to get our hands on.

Landmark
Located in Punjagutta, Landmark is where we get our scoop on the latest releases and bestsellers. It's a large bookstore and the only chain bookstore in the city that actually has a great collection of books. While you cannot expect any discounted prices, they usually have sales on a certain section of books throughout the year.
Sunday Book Bazar
This is a classic you must not miss. With second-hand books starting at prices as low as INR 10, you never know what you are going to find. But we assure you that you will go back with a huge bag of books. Not sparing a single Sunday morning, the book bazaar here stirs life into Abids which otherwise remains closed on Sundays. With National Geographic's hardbound magazines dating back to the 70s and the 80s sold at INR 50 per copy, magazine collectors can go as much nostalgic as they want. Walk a little further and enter the Hollywood lane, and be blown away by the book collection. Be sure to carry cash, though.
Comments