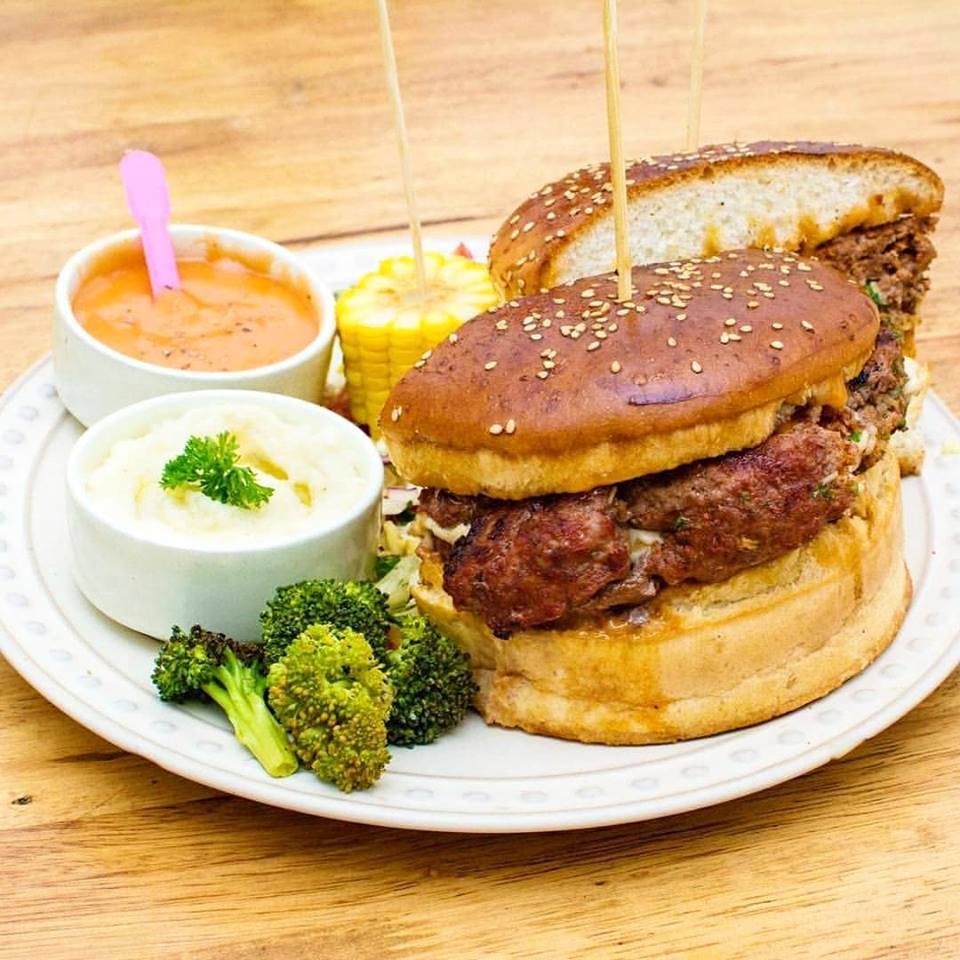 In The Mood For Some Serious Calories? Check Out These Burger Places In The City
Burgers are the one thing we're sure appeases everyone. A good burger can be judged by the bun, its patty, and sauces. Avid burger eaters will agree that when it comes to burgers — the bigger, the better. So say goodbye to healthy eating because it's a SIN not to eat at these top burger places in Hyderabad.
Hard Rock Cafe
No respectable burger lover would make a list of the best burgers in the city without Hard Rock Cafe right at the beginning. Known for its extensive legendary burgers menu, this is the first place we think of when burgers are involved. The OG legendary burger and barbecue bacon cheeseburgers are a MUST.
Burgasm
It is said that we all need to make time for burgers once in a while and we headed to Burgasm in Banjara Hills to say aye, aye! We tried the BBQ Kluck Kluck Burger which is stuffed with jalapenos, cheese, onion rings (whaaaat) and properly minced chicken patty. Comfort food? Totally. A vegetarian version of this is a Classic Veggie Passion burger which is equally great.

The Hole In The Wall Cafe
Known primarily as one of the best breakfast joints in the city, The Hole In The Wall Cafe is slowly carving a place for itself in the list of best burger places. They have a whole side of the menu dedicated just for burgers. The meaty chicken burger, chicken steak burger, the sloppy joe, pulled porky burger — where do we even begin?
Burger Stories
The name itself shows how seriously they take their burgers here. Burger Stories in Jubilee Hills is a haven for burger lovers — an entire restaurant dedicated just for burgers. They have some good options for vegetarians too, like Italian Cheeseburger and Peri Peri Paneer Burger. The Hot Mexican Lamb Burger and Caramelised Onion Chicken Burger are crowd favourites. You can even ask for a triple patty burger.
Charcoal BBQ
Charcoal is winning the hearts of the avid meat eaters of the city. Their famous devilled wings have a reputation of being some of the spiciest wings in the city. Don't even get us started on their selection of burgers — right from Juicy Lucy to Big Daddy Burger which has a chicken patty, lamb patty and is topped with loads of cheese and your choice of eggs.
Chef Inam's Steak House
This place is perfect if you're in the mood to test your burger eating capacity. If the size of the burgers doesn't scare you, we suggest you take up the challenge and go check out some of their meatiest burgers — fresh off the grill. The atomic bomb burger and triple layered insanity burger won't disappoint you.
Chili's American Grill & Bar
Although Chili's doesn't have an extensive burger menu, you will not get bored of the four burgers on the menu. The Bacon Avocado Grilled Chicken Burger and Chicken Ranch Burger are our personal favourites. What's more? All the burgers are served with homestyle fries and bottomless coke — which means unlimited refills!
Thinespo
Apart from their world-class BBQ wings and Lasagne, Thinespo in Kompally serves up some of the most delicious burgers we've had. For the vegetarians, Cottage Spicy Burger and Thrilling Tikki burgers are good options. Meat lovers, you must try BBQ Pulled Chicken Burger and King's 3 Cheese Lamb Burger.
B-Dubs
B-Dubs is the house of the nefarious Big Jack Daddy Burger. This burger comes with two lamb patties that are stacked with a breaded chicken filet, jalapeño, a blend of cheeses and is served with crispy onion rings and their in house southwestern ranch dressing. Are you on your way there yet?

Ask Ananya a question