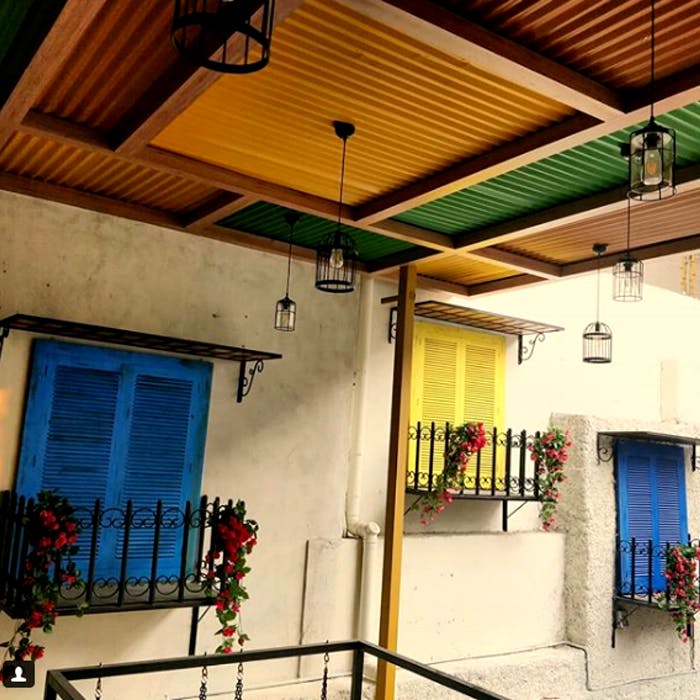 Lit Decor To Awesome Coffee: Pinterest Worthy Cafes You Need To Check Out In Hyderabad
The home to great Irani chai and simple cafes makes space for gorgeous cafes that will make you go weak in the knees. Whatever your mood demands — a cosy coffee date or an afternoon of solitude, these Pinterest-worthy cafes in Hyderabad are where you need to hang.
Conçu
Discovered Paris in Hyderabad? Well, that's Conçu for you. Located in the bylanes of Jubilee Hills, this patisserie attracts visitors of all kinds. There is plenty of sunlight coming into those French-inspired interiors, making this cafe a happy place. Whether you are here for picking a takeaway or to devour their Red Velvet Cupcake, strike a conversation with the staff of Conçu to help you choose from the delectable European-style confectionery on display. If you are captivated by the outdoor seating, grab a cup of Bailey's Latte with a luscious Baiser Macaroon or the aromatic Bulgarian Rosebud Tea along with an Almond Croissant.
The Roastery Coffee House
Known for its pour over and cold brews, Roastery is where coffee snobs need to head to. Finding a table at this cafe located inside a lovely bungalow is a tricky affair but it's worth the wait. The lush greenery of the outdoor seating and lazy doggos as visitors will keep you company. The warm lights of the interiors and the aroma of freshly brewed coffee will not leave you alone. Ask for their Monsoon Malabar blend and lose yourself in its earthy undertones. Feeling peckish? Then pick from their selection of salads, sandwiches burgers and pastas. Look out for the monster double chocolate chunk cookie which can be easily shared between two to three people and is a cool INR 300. And if you cannot figure out what coffee you should be having, just ask owner Nishant and his friendly staff to help you out.
Autumn Leaf Cafe
True to its name, this pet-friendly cafe will leave you in the autumn of spirit. Usually thronged by youngsters and celebrities alike, this artsy cafe's corners and unmatched greenery can inspire you from within. Saunter in a little further to find a little boutique that houses a collection of quirky clothing and home decor. Swing by for a seat under the trees and order a Cucumber Cooler or a Mocha. Stay till the place lights up in the evening (it truly looks gorgeous), and you're all sorted.
Kaficko
Brownie points for the all-day breakfast and the larger than life Scrabble board, which forms part of the gorgeous decor (proper Kinfolk vibes this is). You can actually move the giant letters and play scrabble on the wall if you so wish to. Conceptualised by Hyderabadi architect — Sona Reddy — Kaficko will transport you to Europe in an instant. Pick a seat near the Scrabble board or the coffee bar, order a French press and Double Chocolate Pancakes With Salted Caramel Sauce. If you're lucky enough, you can try their Kopi Luwak (if it is available) too. On your way out, get a glimpse of their crafty pink door. Even better, go upstairs to their neighbour cum boutique — Deccan Story— for lust-worthy apparel.
Coffee Cup
The charm of Hyderabad's favourite coffee shop is boundless. Known for its live music and popular karaoke nights, you'll never find an insipid moment here. Your Monday morning blues can be straightened with their breakfast platter, Latte Cinnamon Dust Coffee, and wandering pets. For the comic lover in you, head over to their red brick wall adorned with superhero pictures. What's not to love? Their Ice Cream Cottage downstairs will remind you of The Hobbit and all things fantasy!
The Hole in The Wall Cafe
Call dibs on the rocky outdoors for all-day breakfasts and conversations. For a more relaxed meal, fetch a book from their shelves and order coffee with pancakes. The cafe is divided into three sections — the indoors with charming wall paints, sunny outdoors, while the upstairs is more of a snug space. If there's something that can pump up your mornings, it's their music. Go eat now!
Didn't include your favourite cafe? Tell us in Comments!
Comments