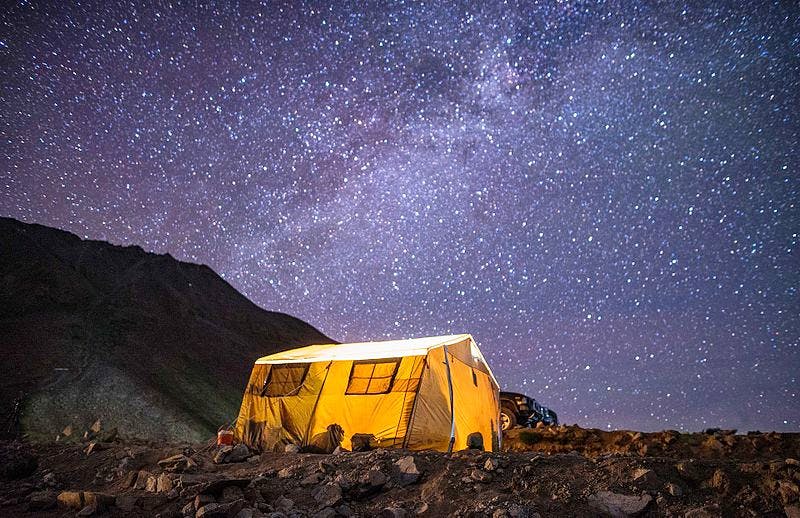 Bundle Up Your Homies & Get To These Camping Sites For A Night To Remember
Adrenaline junkies, are you tired of traveling up north for a good night of camping and bonfire? Have you ever explored the wild that surrounds your urban jungle? If you haven't, we have news for you! Hyderabad has plenty of thrill quarters in its neck of woods that quench the camping enthusiast in you. So, pack your overnight backpack, stuff in some snacks, get into those comfy shoes and walk into the wild.
Laknavaram
Surrounded by jungles and hillocks, Laknavaram is a lake town in Telangana that's significantly known for its bright yellow suspension bridge. The bridge is spread over the lake, giving us a stunning view of not just the lake, but also the lush greenery that girdles it. Go here for the boating, exploring the lake where the trees are submerged in the water, and come back, flood us with Instagram stories. Cannot plan a camping trip on your own? Check this out and thank us later!

Pocharam Dam
Night camping at a lake, anyone? Yes, sir! Located just 12 km away from Medak is Pocharam Wildlife Sanctuary — on the banks of Alair River, a tributary of Manjeera. The wildlife sanctuary also has the Pocharam Lake in its limits and while it is amazing to witness the sunrise here, we recommend you to camp overnight. With BBQ, bonfire, music, and stories to tell, this is perfect for a tiny getaway. And not to forget, the Nizam Bungalow — a 100-year-old bungalow — is now known as a haunted house. If you're looking for cheap thrills, make a visit to this bungalow. It's creepy, so don't say we didn't warn you already.

Ethipothala Waterfalls
If you love the thought of cascading waterfalls amidst mossy green hills, you must certainly camp near Ethipothala Waterfalls. And it's only three hours away from Hyderabad. A visit to Ethipothala is nothing short of a trek. You have to climb down nearly 80 feet to reach the viewing platform from where you get a fine view of the waterfalls. Plus, there is a little crocodile sanctuary at the foothills of the waterfall as it forms a lagoon which makes for a perfect breeding ground.

Ananthagiri Hills
We know we cannot stop talking about Ananthagiri Hills in Vikarabad but it's a real deal as it's is generously filled with sunflower fields and grasslands that make you forget your home in the city. When you hike through the woods to reach the edge of the valley, you get a panoramic view of the Deccan Plateau. Plus, there's Kotepally Reservoir nearby where you can go for kayaking. In fact, if the weather is pleasant, you can camp by the reservoir too.

Horsley Hills
Now, Horsley Hills might be a little far but you won't regret getting here. This hill station in Andhra Pradesh is known for its scenic vistas, rocky boulders (Gali Bandalu), cloudy hilltops, and foggy mornings. Cannot make a visit to the hills? This is closest you can get. Don't forget to check out Gangotri Lake while you are here.

Comments