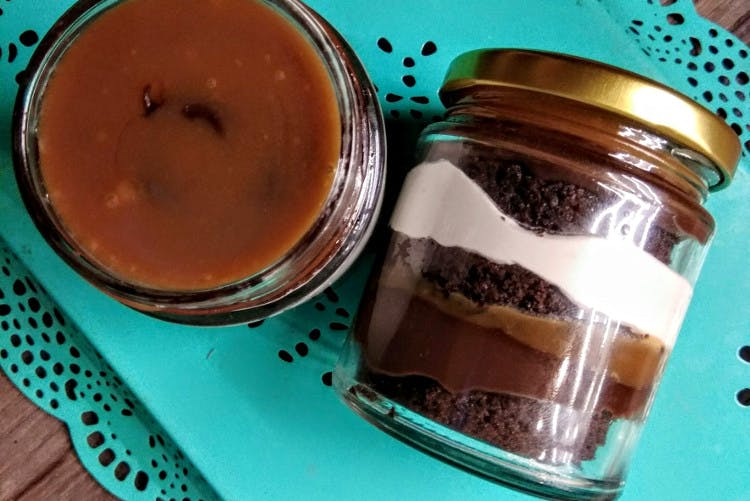 These Are The Best Chocolate Desserts In Town. How Many Have You Tried?
They say that anything is good when it is made of chocolate and we think so too. Whether you're having a good day or a bad day, a piece of chocolate can do wonders. We gorged on chocolate desserts all over Hyderabad and found a few that you must absolutely devour. And no, don't share them even with your bae or BFFs because they are meant to be devoured all alone.
Death by Chocolate - Heart Cup Coffee
Heart Cup Coffee is known for its delicious drinks, but who knew it makes epic bakes too? The Death By Chocolate at HCC can drive even Satan into goodness. Gooey in the center, it comes with a chocolate Macaron on top and you shouldn't miss this, for sure. Get here on evenings, groove to the music, and enjoy an immoral amount of chocolate.
Sizzling Brownie - Coffee Cup
Running out of reasons to love Coffee Cup? Fret not, we've got plenty more. We vividly remember the first time we tried the Sizzling Brownie here and fell head over heels in love. The vanilla ice-cream melts into the bubbling hot chocolate, and it's filling as a meal itself. If you have a sweet tooth, ditch that Alfredo Pasta or Chicken Stroganoff for this art of perfection.
Chocolate Mousse - Guilt Trip
Oh, the mousse – unfolding its lusciousness in every bite, Guilt Trip specializes in this chocolate dessert. Although there are countless other chocolate desserts, we love this as it melts into your mouth. Priced at INR 130, we think you should pick this for sleepovers with your gals or pals.
Chocolate Eclair - Eclaire
Eclaire is known for its eclairs. And no, we're not leaning towards a pun. While you keep figuring out if it's soft or crunchy, the chocolate on the inside will delude your mind for a while. Pick an eclair or two and order a cup of Americano to go with. Priced at just INR 90 per eclair, these are best for broke day indulgences.
Chocolate Lava Cake - The Matter Of Batter
With a fairytale-like ambiance, The Matter of Batter has been stealing all hearts. While we love the dainty desserts put on their counter, it's really their Chocolate Lava Cake that makes us walk home in choco glory. What we like about this dish is the molten chocolate inside which is quite thick in texture rather than watery. While this fullsome dessert is perfect for two, we wouldn't share if we were you. Priced at INR 220, this is well-worth every penny.
Chocolate Mudpie - Little Things
Fancy a cake in a jar? Then you got to pick the Chocolate Mudpie at Little Things. This little place is a true delight for dessert lovers and if you're looking for eggless desserts, they have plenty of them. Our personal choice is their Chocolate Mudpie that comes in two sizes – medium and large. Go for the large (we love more chocolate) one and chill!
Comments