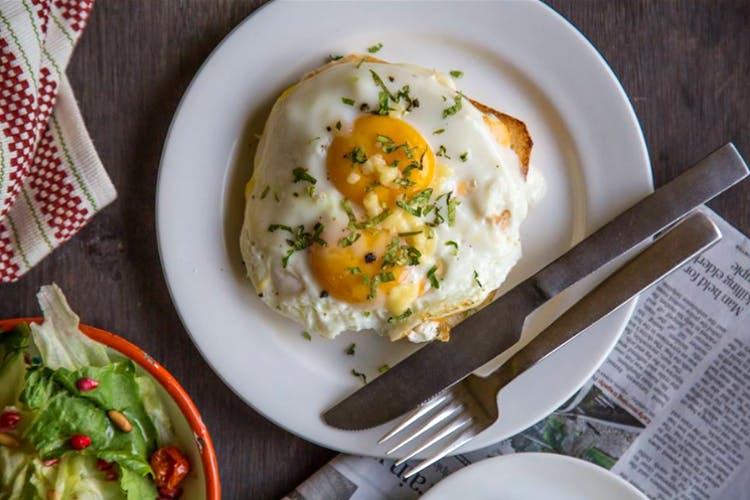 Marinara Eggs To Eggs Gigolo: Here Are The Ultimate Egg Dishes In Town
If you think an egg for breakfast is a good idea, we'd say it's a great idea for lunch and dinner too. Craving some eggy goodness? Head to these cafes and restaurants in town for some eggcelent dishes.
Eggs Gigolo - Wich Way
No matter what time of the day, we crave the omelettes at Wich Way. But for a change, we tried the Eggs Gigolo and fell a bit in love. Spinach and feta cheese eggs are properly stuffed between buns and if you think McDonald's Egg McMuffin is boss, wait till you get your hands on this. Plus, this is filling enough for not just breakfast but any meal.
Marinara Eggs - The Hole In The Wall Cafe
The Hole In The Wall Cafe is really a hole in the wall that opens up to a stunning cafe with rocky outdoors, table with swings as seating, interiors with books, and vibrant walls. We heart this cafe for its Marinara Eggs where fried eggs are cooked in marinara sauce and topped with cheese and olives. Perfect to kick-start your mornings!

Scotch Egg - Pappa Roti
Probably the only place in town that whips scotch egg, we don't step out of Pappa Roti without having a plate. Yup, every time we visit! Reminding you of a mutton chop, this dish is where hardboiled eggs are wrapped in meat or bread crumbs batter and deep fried. The gooey and slimy yellow of the egg and the crunch on the outside form a terrific duo right from the first crumb. So, tell us, how can we not eat this?
Egg Noodles - Chop Sticks
Chop Sticks is an oldie but goodie. Several youngsters are found chowing down the noodles and chicken majestic dishes at this joint. If you don't mind crowded joints or eating in your car, we recommend the Chilli Garlic Egg Noodles. Ask for a double egg and what arrives is a eggy goodness of spicy noodles. This is our favourite monsoon snack.
Eggs Kejriwal - SodaBottleOpenerWala
Nobody gets Parsi delicacies quite like SodaBottleOpenerWala in the city and we're glad they have Eggs Kejriwal on the menu. The mighty goodness of cheese, chilies, and mushroom come in unison with eggs on a toast. While the eggs are gooey, the toast is crisp, but it's the filling that makes all the difference.
Egg Biryani - Sri Kanya
If you haven't eaten at this iconic joint in Punjagutta, you haven't eaten the good stuff in the city. The biryani at Sri Kanya will take you to its yard, time and again. The Egg Biryani is loaded with masala and we love how the spices add a great texture to not just the rice but the egg too. If you're bored of chicken biryani, try this.
Comments