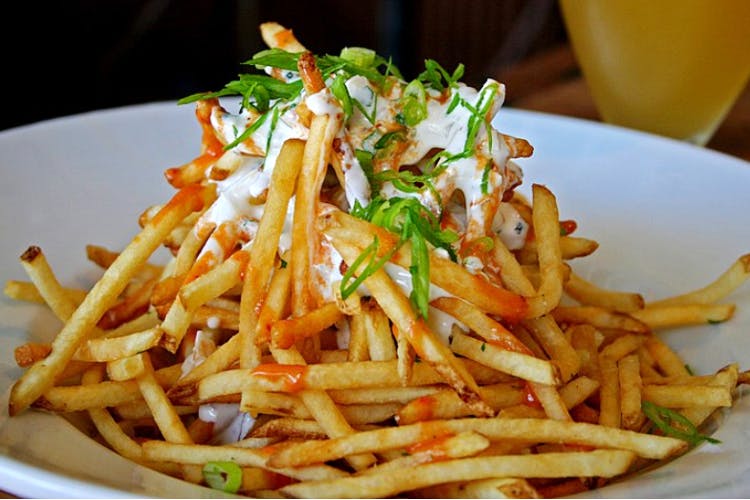 Loaded Fries To Chilli Cheese Fries, Load Up On The Best Fries In Town
When it comes to french fries, let's be honest, there is no diet ever. Whether they are plain, baked or cheesy, we'd love ourselves a generous helping of fries. And if you haven't tried the best ones in town, are you even a lover of fries, bruh? But okay, judgment aside, we're letting you into our little black book of the best cafes/restaurants that make fries like nobody ever. Let's get stuffing already!
Loaded French Fries, B-Dubs
You've heard of Loaded Nachos for sure but have you ever heard of Loaded French Fries? Yup, it's the same as the nachos dish, but replace it with fries and it's a damn sweet party. The fries are topped with refried beans, jalapenos, pico de gallo, and sour cream, and it's something you shouldn't miss.
Red Hot Chili Fries, Hard Rock Cafe
What do you do when your fries come with cheddar cheese and salsa? You dip, dunk, and eat your way to glory. When you are at HRC the next time, skip your regular burger affair and go for the fries. They go well with your drinks too, so why not?
Chilli Cheese Fries, Delizie Baking Company
No comfort food like this, and we mean it. Crispy fries are tossed in chili cheese and we love how a part of fries are crispy and the others are soggy with the cheese. Order a cappuccino (Yup, the coffee is great here) and ring in an evening with your BFF.
Ooey Gooey Fries, Hoppipola
If we haven't made our love for Hoppipola clear enough, let us do it now. The drinkies here are yummy (and budget) while the finger food is far better. The Ooey Gooey Fries are topped with melted cheddar cheese and go perfectly with your beer and cocktails. Plus, the portions are large enough for three.
Piri Piri Fries, McDonald's
Let's get real. When it comes to fries, we always love going back to our McD — our first love. Ever since McD introduced Piri Piri, we've realised there's nothing quite like it. Shake it, bounce it, and let your fries bathe in the spicy goodness of piri piri masala. Then, you eat. Be sure to go for the large fries. Don't hate us; we don't think they're top quality, but for that price, we'll keep going back!
Did we miss your favourite spot to eat fries? Tell us in the comments.
Comments