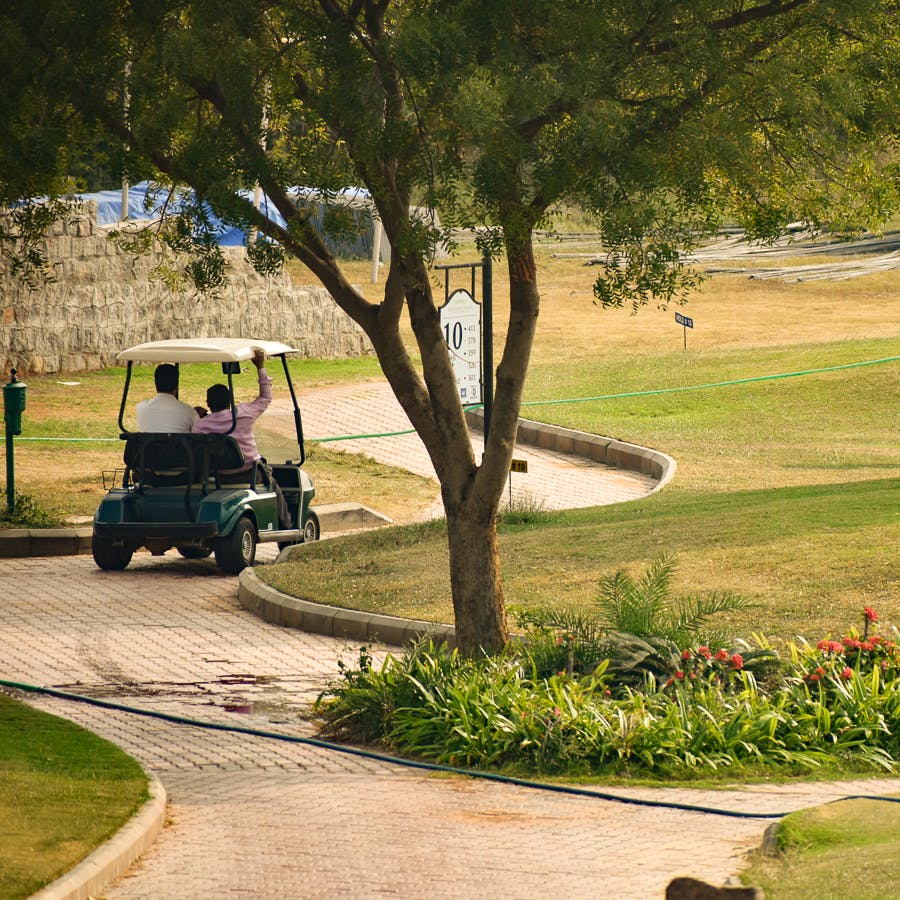 You've Got To Tee Off At These Best Golf Courses In Hyderabad
Usually, when people look for things to do and places to visit in Hyderabad, they are given the staple Charminar, Golconda Fort, and biryani list. Not many know that the city has some of the best golf courses in the country. Irrespective of whether you play golf or not, you haven't really lived in Hyderabad unless you go visit these golf courses.

Hyderabad Golf Club
The Hyderabad Golf Club. HGA, which is run by the Telangana State Tourism Development Corporation and the Hyderabad Golf Association, started off as a modest nine-hole course. It has now grown into one of the best maintained 18 hole golf courses in the country. A dedicated group of golfers persuaded the State Government to allow the construction of a golf course in the midst of the historic Golconda Fort. It has transformed what once was a neglected part of the fort into a pristine pasture of greenery.
Holes - 18 Par - 71 Length - 6057 yards

Pro-Tip: This is one of the cheaper golf courses in the city, so call them up to book a tee-off time.

Boulder Hills Golf Club
This course has managed to make optimum use of the natural landform of the place - which basically comprises of a lot of boulders and rocks. They are extremely pleasing to the eye, they also pose as obstacles you must avoid. One of the more difficult courses in the city, Boulder Hills golf course is very well maintained and has been designed really well with some exceptional setting on most holes. It definitely is a challenge to make it out of the course with a good looking scorecard.
Holes - 18 Par - 72 Length - 7229 yards
Pro-Tip: Caddies are in short supply here, so we suggest you hop onto the buggies that are offered on rent.

Bolaram Golf Club
Another course that is set in a historic monument in the city, The Bolaram Golf course boasts of a natural lake and it stretches into the Naya Kila. It is maintained by the army and is extremely well kept. All the holes are named after historical events and people and are very innovative. For instance, the 12th hole gets its name from young Winston Churchill's bungalow near the green, the 14th is called Waterloo in memory of a golfer who took 6 to sink from 2 feet away.
Holes - 18 Par - 72 Length - 6434 yards
Pro-Tip: All army members are welcome to play, but guests must usually be accompanied by a member of the club. But sometimes locals are let in at an extra rate.

Army EEPTA Eagle Golf Course
Another beautiful golf course maintained by the army, the EEPTA Eagle Golf Course is located in Bolarum and is a dream to play on. Irrespective of your skill level, you will be at ease here as the caddies and staff will really look after you and make sure you feel at home. Although most army golf courses have restricted entry, there are some that are open to the public.
Holes - 18 Par - 72 Length - 6688 yards
Pro-Tip: It is an army area, so sometimes entry can be restricted. Call up the club to book a slot and find out the necessary details before your tee-off time.

Ask Ananya a question