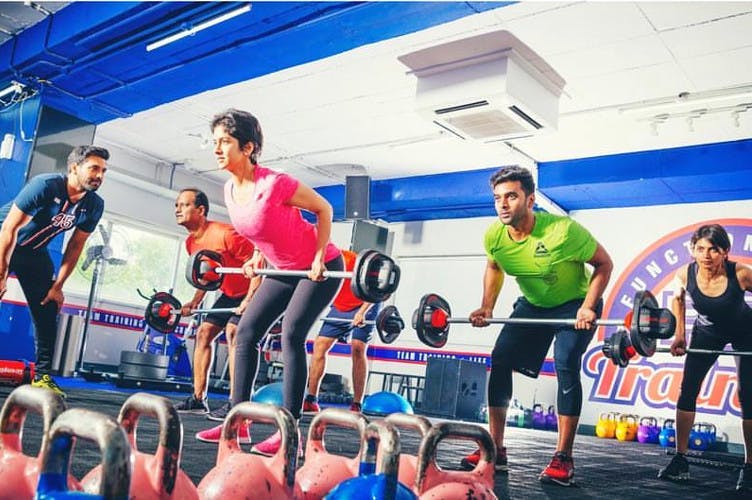 Hi-tech City Peeps, Need To Work Out After Work? Check These Fitness Options Under INR 5,000 A Month
The best gyms in town always cost us a bomb. Especially if we're looking to hit a gym after work in the bustling location of Hitech City, the odds are higher. Or that's what we thought, before discovering a list of fitness centres that refuse to pinch our pockets.
Potens Fitness
Potens is more of a community and less of individual activity. The skilled trainers encourage group activities which are based on functional movements that are generally used in sport or everyday life including gymnastics, weight lifting and running. At the end of a session, where the entire class does the same routine together, the trainers pen down each individual's performance on board. According to Potens, this format brings the best out of people since they push their limits higher.
Price: INR 3,000-4,500 plus tax per month
Cross15 Gym
A fitness studio that's designed to appeal to both beginners and seasoned individuals, this is for the ones who are keen on setting fitness goals and measuring their progress consistently. Cross15's training includes Kettle Ball, Gravity Trainer (a group-fitness programme), powerlifting along with dedication training tracks for women and strength and conditioning. While their membership for the first month is priced at INR 1,800, it's INR 1,500 from the second month. If you're opting for a personal trainer as well, the monthly membership is around INR 5,000.
Price: INR 1,500 upwards
Krish Fitness & Wellness Spa
Krish Fitness promotes a healthy lifestyle and owns equipment that meets international standards. While encouraging its clients, it also posts their transformation pictures on social media etc. to help them try harder. It specialises in strength training, group training etc. Its dedicated free-weight area is for some serious body-building. They also have a steam room and a decent range of spa treatments.
Price: INR 2,500 (the first month is priced at INR 3,000 because it includes an admission fee)
Nirvaana Yoga Studio
Nirvana is a sublime yoga studio that offers Yogasanas, Pranayama, Prenatal Yoga, Postnatal Yoga, Chair Yoga, Mudra Therapy, Acupressure, Kundalini Awakening, Chakra Meditation. They also specialize in offering yoga sessions to kids. Along with a steam room and massage therapy, Nirvana is well sought after for its pleasant ambiance and trained instructors.
Price: INR 1,800
Snap Fitness
Snap is a global brand that aims to provide affordable yet sturdy fitness programmes. It's fun to work out here because of its energetic and supportive atmosphere. We recommend you check their Facebook page for they keep offering sweet (oops…sweat) deals, time and again.
Price: INR 3,000
Fit Republic
Fit Republic is a unique concept gym that blends east with west in its fitness programmes. What we mean by this is that high-intensity free weights are fused with yoga. Go here for it is a trainer-led group fitness programmes.
Price: INR 4,000
Ram's StepUp Dance Company
At Ram's StepUp, fitness meets fun. With a whole range of programmes like Zumba, Salsa, Freestyle, Hip Hop etc., shedding some sweat here is never mundane. As a leading dancing company, they don't teach you just professional dancing or flexibility, but also help you achieve an all-encompassing discipline and development. If you're not a run-of-the-mill person and love your fitness with panache, we recommend you step up here.
Price: INR 2,500.
Fit Dock
Find your strength is what Fit Dock says. Treating exercise as a medicine, this gym helps you pick from its choices of general fitness, group fitness, functional fitness for the ones interested in reaching the peak of the fitness, youth fitness, which means you can embark on the fitness journey at any point of time in life.
Price: INR 3,000
Abhinav Parkour Academy
Think working out is boring? Abhinav Parkour Academy will change that thought for you. Get running and rolling, vaulting and climbing at this super fun academy. Parkour involves a lot of freestyle movements and outdoor practice, and this academy is well-equipped for it. Apart from Parkour, they also have weights, functions, and cross-training, ensuring a wholesome experience. As of now, they have dedicated batches like the beginner, intermediate, and advanced levels and the circuits in every batch are designed in such a format that every individual can explore them.
Price: INR 3,000-5,000
Comments