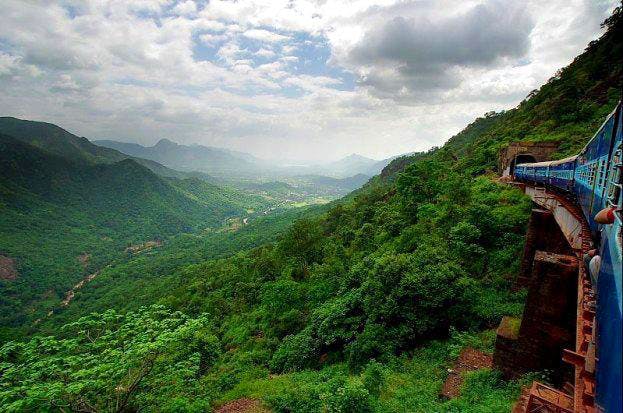 Pack Your Bags & Head To These Hill Stations
Can't take days off of work and head to exotic locations? These hill stations around Hyderabad make for easy peasy weekend getaways. So, escape the scorching heat (waiting for the Summer) and unwind at one of these places, all under 15 hours drive (max) for that much-needed break.
Chikmagalur
Located at the foothills of Mulayanagari Range, in Karnataka is the town of Chikmagalur. Surrounded by hill stations like Baba Budan Giri, Mullayanagiri, Kalasa, Koppa — this place offers some scenic views and attracts tourists from all over the country. Here, you can experience the mountain air and coffee estates. You can also check out Hebbe Falls and Bhadra Wildlife Sanctuary, to witness the beauty of nature, or go trekking.
Distance From Hyderabad: 660 Km
Getting There: Although Chikmagalur is well connected to Hyderabad by both rail and air, you can also plan a road trip via Bangalore and get here in about 12 hours.
Araku Valley
Home to indigenous tribes on the Eastern Ghats, Araku is amongst the highest peaks in Andhra Pradesh. The beauty of this place lies in its forests and coffee plantations, and it is also known for its rich bio-diversity. So, while here, you can explore these forests, and also visit shoot locations of popular Tollywood films like Happy Days, Life Is Beautiful, and more that were shot here. Also, check out the famous Borra Caves which are located only 29 Km from here.
Distance From Hyderabad: 702 Km
Getting There: You can either take a day or overnight train to Vishakhapatnam and drive to Araku Valley in 3 hours from there or just go on a road trip via NH65 and NH16 to get there in about 14 hours.
Lambasingi
One of the less explored hill stations around the city is Lambasingi, a small town also known as Kashmir of South India. Although this place is a massive hit among travellers in winter as it experiences sub zero temperatures and foggy weather, but it also a great choice for summer getaways. This tranquil place has dense forests, plantations and valleys and the population here is very less too. So, it makes a perfect getaway for peace seeking nature lovers. People who want to go on solo trips too can head here for solitude.
Distance From Hyderabad: 602 Km
Getting There: You can take a train to Visakhapatnam and hire a cab from there, or drive there via Suryapet, Vijaywada, Rajahmundry and more. Ideally, the long drive would take 12 hours to get to Lambasingi.
Mahabaleshwar
Mahabaleshwar is a forested hill station located in the Western Ghats, but Hyderabadis can still go here for the weekend and enjoy Chinaman's Falls, and its surrounding greenery and rocks. Mahabaleshwar also houses the Pratapgadh Fort and Venna Lake which are major tourist attractions. You can go here if picnic-sports, sunsets, and well-trodden paths excite you.
Distance From Hyderabad: 585 Km
Getting There: Although you can take a train to Pune and bus from there to Mahabaleshwar, we recommend making this a road trip with the family or squad for a perfect weekend.
Horsley Hills
Horsely Hills is a series of hills located in the Chittoor district have some of the best views of nature and cool climate. Check out Gali Bandalu (Wind Rocks) and dense forests where you can spot wildlife of its rich flora and fauna. So, escape city life for a relaxed weekend.
Distance From Hyderabad: 534 Km
Getting There: You can get there in about 10 hours by road but there are daily trains and overnight trains too.
Ooty
Comparatively farther, Ooty is still a popular choice among Hyderabadis. It is often called the queen of hill stations. Rolling hills, and dense plantations is what Ooty is all about. Tea gardens, British style bungalows, and winding roads characterize this hill station that has cool weather for us to run to, this Summer.
Distance From Hyderabad: 842 Km
Getting There: Since there is no direct train, bus or flight from Hyderabad to Ooty, the best way would be to get to Coimbatore and then drive to Ooty as it is only 85 Km away. You can also consider making a road trip from Hyderabad as it is a 15-hour drive.
Comments