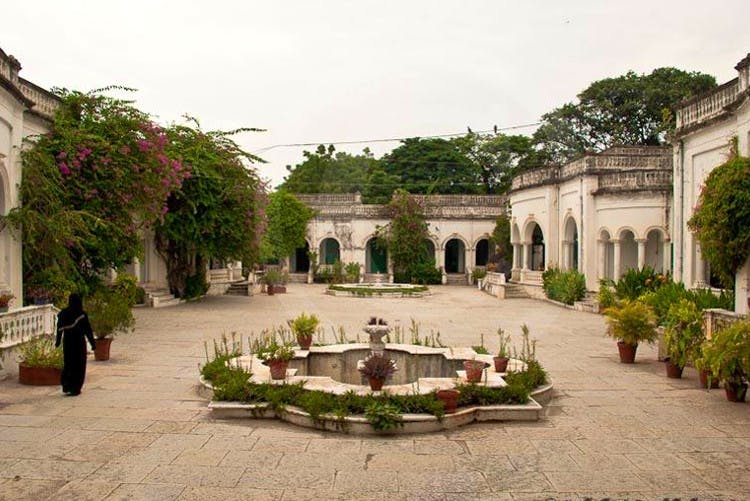 Get Your Sightseeing Mode On With These Beautiful Historical Places In Hyderabad
Without historical places and cultural diversity, what is Hyderabad really? No matter how many times we've visited Charminar or Golconda Fort, they always take us back for more. Now, here is a list of the best historical places in Hyderabad. How many of these have you visited?
Mecca Masjid
Mecca Masjid in Hyderabad is a well-known monument of significance and you can spend a few hours here observing the larger than life architecture. It is said to accommodate over 10,000 members and from the masjid, you can get a brilliant view of the Charminar and Osmania hospital. While touring, you'll discover enchanting doors and arches with inscriptions from the Quran written above. It has an elaborate staircase at the entrance where you can relax and take in your surroundings.

Chowmahalla Palace
If you are in the Charminar neighbourhood, don't forget to check out the grandeur of Chowmahalla Palace, the official residence of the Nizams during their rule. It's also one of the must-visit places if you're traveling to Hyderabad. Situated in the Old City of Hyderabad, Chowmahalla is thronged by hundreds of visitors every day. The sprawling gardens are filled with curious visitors exploring the charm of the palace in bits. The four palaces — Tahniyat Mahal, Mahtab Mahal, Aftab Mahal, and Afzal Mahal are architected in different colour patterns and significance.

Birla Mandir
No travel tour is complete without a visit to Birla Mandir, which is one of the best temples in Hyderabad. Located in Khairatabad, this temple is built on a 280-feet high hill, making it visible from many areas of Hyderabad. This white marble temple is nearly 50 years old but is still seen in travel brochures or videos pertaining to Hyderabad tourism. It is said that the architecture of the temple is a fine blend of Dravidian, Rajasthani, and Utkala style and took almost 10 years to complete the construction. Apart from the main shrine – Lord Venkateshwara – it also has shrines for Lord Shiva, Sai Baba, Hanuman, Lakshmi Devi. Go here on an evening, and come back through the lanes of Adarsh Nagar that sell bangles and fancy jewellery of all kinds.

Qutb Shahi Tombs
Just a couple of kilometres away from the urban concrete jungle lies Qutb Shahi Tombs which are the seven successive generations of the Qutb Shahi dynasty that ruled Hyderabad for about 170 years. Forming a large cluster, these tombs are known for their architectural design and are often frequented by photographers. These tombs are often said to form a golden triangle with Golconda Fort and Taramati Baradari in the same proximity.

Ravindra Bharathi
Ravindra Bharathi is a cultural venue and auditorium in Khairatabad and it's regarded as prestige to perform on this stage. It has hosted some of the best artists and novices from a plethora of fields and still continues to bring awesome artists even to this day. We recommend you hit up this place after checking out its events calendar and immerse yourself in a cultural evening.

Golconda Fort
The Golconda Fort is one of the most iconic things to check out in Hyderabad, and we recommend wearing a pair of comfy shoes and getting here to explore its beauty. Even after all these years, it still remains a go-to place for tourists in Hyderabad. Marvel at the amazing acoustics or go for the Sound & Light Show.

Hayat Bakshi Mosque
Located in Hayat Nagar, Hayat Bakshi Begum Mosque is also known as Hayathnagar Grand Mosque. This 450-year-old monument, this was built by the Queen Mother (also known as Ma Saheba). With an intent to offer weary travelers a shelter to rest, this mosque has around 5 or more domes and no two designs are repeated on either of them. The caravan sarai or rest house comprises of 130 rooms, and the premises include a large wall as well.

Purani Haveli
Purani Haveli used to be the erstwhile Nizam's residence and it is close to Chowmahalla Palace. This is now turned into a museum and it's a less discovered hidden gem. The main building here houses the Nizam's Museum which showcases stunning souvenirs, gifts, and mementos that the last Nizam received within a few hours during the celebration of the silver jubilee of his rule. This is quite close to Salar Jung Museum.

Charminar
No historical exploration can be complete without visiting Charminar. Admire the architecture and climb to the top after paying INR 5 (entrance fee). The view of the surroundings is quite beautiful from the top. Even more so, during the sunset hour.

Comments