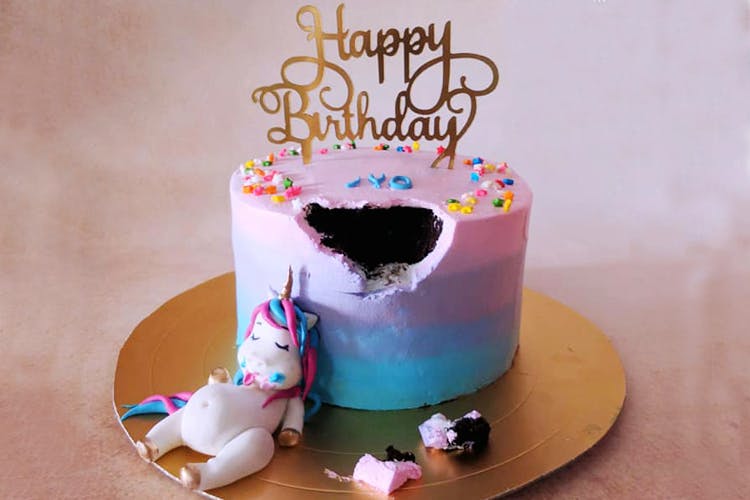 Fat Unicorn To Burger Cakes: Order Yourself Every Instagram Trend From These Home Bakers
Ditch the standard choices at your regular bakery and indulge in custom made, flavourful goodness of cakes and bakes from these Hyderabad home bakers. We bring to you some very talented ladies to whom baking is a piece of cake (see what we did there). So if you have a party, or even want to just stuff your face with lots of cake, these are the folks you need to hit up right away.
La Petite Meringue
With over 25 years of experience, Radha Dhaka's La Petite Meringue is one of the most loved home baking ventures in Hyderabad. Radha is also a sculptor whose skills are depicted in her beautifully modeled cakes. She strives for freshness and doesn't use any preservatives which makes her baking outstanding. Her signature offerings range from cakes, cookies, macaroons, brownies, and madeleines, though she enjoys making customised cakes the most. When she is not baking, Radha conducts workshops and classes for those interested in mastering this art.
Must Order: Life-like sugary figurines on sculpture cakes you can munch on.
Zoey's Bakehouse
Named after her daughter Zoey, Poonam Maria Prem's venture excels in adding crazy little details to make her gorgeous cake creations larger than life. From cakes based on fairytale characters to cake tiers with a metallic finish — Zoey's Bakehouse has got it all. Have a look at her adorable version of the trending -on-Instagram Fat Unicorn Cake, cake pops, and more.
Must Order: Poonam's wedding cakes have gone viral in the past and we are rooting for her unicorn cake too.
Pastel Baking Co
Young baker, Rasvin Sawhney who started Pastel Baking Co. has cakes for every occasion. Although the presentation of her cakes is on point, she knows that taste is the no. 1 factor why customers can't get enough of them. Her bestsellers are chocolate cupcakes, Ferrero Rocher cake, red velvet chocolate cake, and vanilla based cakes. But Pastel Baking Co also does some fun cake trends we have spotted on Instagram like the whole floral theme. Rasvin does fresh flower cakes with buttercream. She is also known to make crazy cakes like a burger cake. Her Chocolate Abundance Cake also gets brownie points from us.
Must Order: Keeps up with Instagram cake trends by ordering from the Pastel Baking Co.
Dolcé Vita Cakery
Cutesy cakes that look like clay models are a speciality of Dolce Vita Cakery. Aishwarya realised her passion for baking while she baked her son's birthday cake, and there has been no looking back ever since. Check out her fun cookie cake or the adorable Peppa birthday cake. Don't believe how good she is at claymation like cakes? Aishwarya also does low calorie cakes, eggless cakes and diabetic cakes using ingredients that are kiddie safe and healthy too.
Must Order: Clay model like cakes and cakes that diabetics can devour.
Flavoroso
A new mom, Neha Sisodia still refers to Flavoroso as her first baby. She specialises in custom made eggless cupcakes, chocolates, muffins, and fancy cakes. This self-taught baker is currently on a break but we couldn't possibly exclude the amazing cupcakes she makes. Our favourites are the pistachio cupcakes, yum and a crazy good looking ice cream themed cake she did for a birthday. She resumes taking orders from Sunday, April 1.
Must Order: Most delicious, mouth-watering Pistachio Cupcakes that we can't get enough of.
Naina's Soulful Bake
Naina Soulful Bake's USP is the health conscious measures she takes while baking. Her goal is to bring healthy bakes to children on an everyday basis. She doesn't make use of fondants, preservative or stabilisers (she uses whipped cream sometimes, instead) in her baked goodies. She specialises in cookies and loves making bread-based products. Although Naina is a chef by profession, her heart lies with the fitness and health influenced baking.
Must Order: Wheat and Oat Cookies & Dry Fruit Cookies
Pro-Tip
Since all these ladies are busy home bakers, you might want to place orders at least three days in advance to relish their baking.
Comments