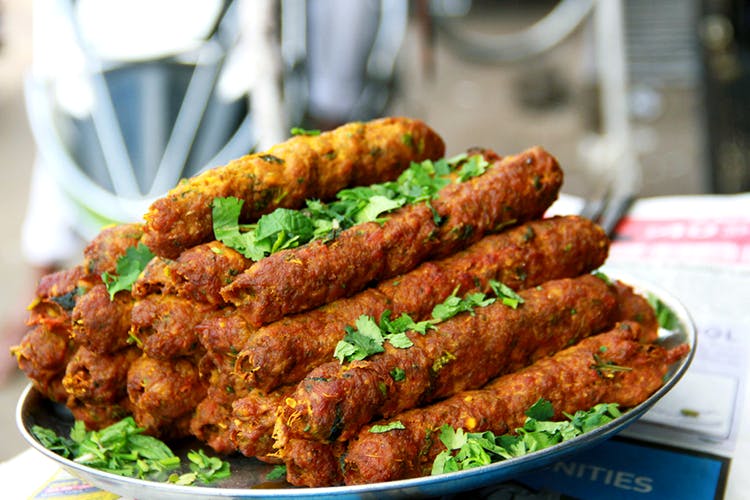 Life Is All About Good Kebabs! How Many Of You Have Eaten At These Iconic Kebab Joints?
Before dosa bandis ruled the streets of Hyderabad, we had kebab bandis filled with delicious kebabs that catered to every palate. With the bandis long gone, we luckily still have a few hidden gems within our reach, for a range of savoury treats. We've compiled a list of the best kebabs in town. Eat away!
Hotel Shahran
The killer Seekh Kebabs at Hotel Shahran are a cult favourite. Pair them with Rumali Rotis or Warqi Parathas, and we have ourselves a filling meal. Wash it down with a cooling lassi for a happy tummy.
Shahi Dastarkhwan
For a comfortable restaurant experience that doesn't compromise on taste or authenticity, head to Shahi Dastarkhwan. The Chicken Reshmi Kebabs and Chicken Malai Kebabs here are the melt-in-your-mouth variety, and won't leave you disappointed.
Siddique Kebabs
Siddique Kebabs is a super busy joint that attracts peeps from the IT side of the city too. We are happy with their amazing grilled chicken and tangdi kebabs. Head to this place to take home a filling and super-tasty evening snack.
Istanbul Authentic Döner Kabab Shawarma Restaurant
Out of all the places in Tolichowki that serve Shawarma, this one's our favourite. Their iconic doner kebabs and doner kebab salads are mildly spiced and delectable. Find yourself in and around Tolichowki? Go here.
Bade Miyan Kebabs
Saving the best for the last, this iconic joint setup in 1934 is a fourth-generation run place with open-air seating. Their Boti Kebab and Patthar ka Gosht remain all-time favourites and the place has a wide range of items to for vegetarians as well. Win-win!
Comments