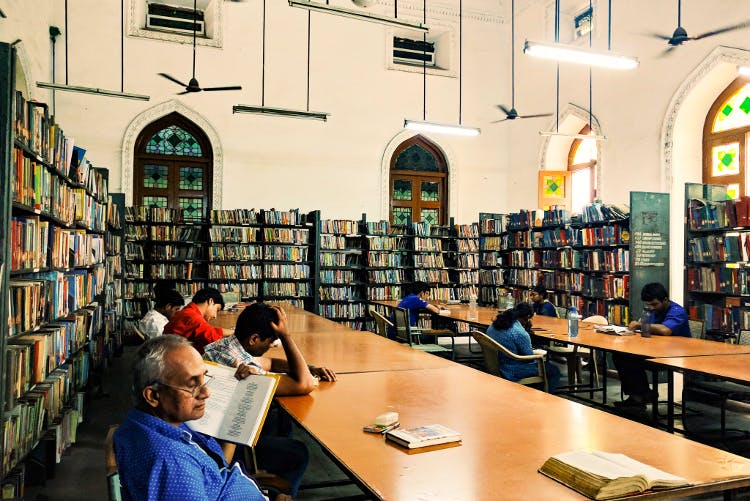 Readers, Ahoy! Add These Libraries In Hyderabad To Your Speed Dial NOW
Whether you are a student or an avid reader, a library membership is surely a great investment. If you are looking for libraries where you can read, borrow, and attend cultural and arts events, here is a list of the best libraries in Hyderabad. Happy reading!
Telangana State Central Library
Telangana State Central Library is one of the oldest and best libraries in Hyderabad. It houses more than 5,00,000 books and magazines along with palm-leaf manuscripts that'll leave you in awe. Find an exhaustive collection of books on science, technology, medicine, fiction, non-fiction, legal, history, world politics etc. Some of the manuscripts date back to the 5th century. The first year membership costs you INR 150, and it costs INR 50 from the second year.

City Central Library
City Central Library in Ashok Nagar houses over 2 lakhs of books, magazines, and newspapers. It's a place where readers can study, or enjoy a book not only indoors, but also underneath the many trees on its premises. This public library has multiples sections like the academics, general, periodicals, reference, preservations, and a children's section too. Spread across two floors, these sections have books of different languages. Availing membership at this library costs very little. Yes, we're talking as low as INR 150 (lifetime membership), but you can also borrow books worth INR 150 on that membership for 14 days.

Just Books CLC
Just Books has several outlets across the city, and if you love fiction, it cannot get better than this. Graphic novels by Alan Moore and comics like Tin Tin and Asterix grabbed our attention. If you are into non-fiction and self-help books, find them in numbers. Their children's book collection is wider, with Amar Chitra Katha, Roald Dahl, Enid Blyton, The Diary Of Wimpy Kid series on offer. Since they have an online presence, their catalog has more books than what is at the store. A 3-month membership is priced at INR 900, but if you take a monthly plan, it costs around INR 350. Plus, if you are an online member, books are delivered at your doorstep.

British Library
British Council in Jubilee Hills has a library and it's arguably one of the most well-stocked libraries out there. Apart from thousands of books, hardbound beauties, and magazines, British Library also offers digital content that you can access from the comfort of your home. The space is quite vast, well-lit, and reminds you of solid university libraries, and they host plenty of events too. The annual membership costs INR 2,000 and they have other membership options like family, student, corporate, online etc.
Books n More
Books n More is a library and activity centre for kids that also doubles up as a venue for arts events and workshops. Located in West Maredpally, this might look like a home library, on first look. Don't be fooled by its appearance as this hidden gem has tons of books. The storytelling and reading activities for children are what makes this place stand out, though. They also host workshops on crafts, drawing, dance, and more. The membership for the library costs INR 100 per month.
Sri Krishna Devaraya Andhra Bhasha Nilayam
Sri Krishna Devaraya Andhra Bhasha Nilayam in Sultan Bazaar is nearly a century old and if you are looking for regional Telugu literature, you'll hit a gold spot with this. With more than 40,000 books, newspapers, and magazines, this library is definitely our parents' favourite and if you are interested in discovering Telugu literature, go here.

InkReaders
InkReaders is a book rental library in Kondapur, and if you live in and around this area, this is where you must head. Talking about convenience, they have a proper online presence and deliver books at your doorstep. Whether you love fiction or self-help books, you can either check them out at their physical library or online catalogue. The prices range from INR 10 per day to INR 50 a week or opt for a monthly membership of INR 250-400, depending on the plan of your choice.
Comments