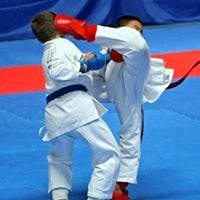 Hit Up These Places To Learn Marshal Arts In Hyderabad & Get You Inner Chan Out
If you're eager to learn martial arts for fitness or fun self-defence, don't wait up. We know that when it comes to martial arts, it's important to learn from an experienced trainer. So we made you a list of the best martial arts schools in Hyderabad that are well spread across the city.

BCUBE - Big Bang Boxing
BCUBE - Big Bang Boxing mixes regular workout regimes with boxing techniques to punch away that unwanted fat. New to boxing? No worries, you will be guided by trained professionals who will make sure you get a lean and toned body. Not only physically, but boxing is also known to make a person mentally strong by improving their focus and attention. The peeps here understand that because of our busy work life, it's stressful for our bodies to work out for a long time. To tackle that, they've designed their regimes in such a way that you see maximum results in minimum time. It's located in three areas, Madhapur, Gachibowli, and Begumpet.

Sanjay Karate School
Formerly known as American Martial Arts Centre, this karate school in Jubilee Hills was established in 1989 and houses one of the best martial arts trainers in the world with 50 years of experience, Mr. Brett Mayfield. Regardless of whether you're a beginner or a professional, this institution has something for everyone. If you're a newbie, don't worry, they have well-balanced programs for everyone which gives time for sports and other activities too.

Okinawa Martial Arts Academy
Wondering what Okinawa is? It's a traditional Japanese Karate and yes, it's as serious as it sounds. The founder and grandmaster of this academy, Mr S. Srinivasan, created a new style of karate called Binoryu which is a mix of traditional martial arts and Indian karate. You'll not just learn karate here, you'll also learn the skills for a healthy lifestyle like fitness, stamina, and endurance. You can go a step higher and participate in many competitions too.
Shinkyokushin Karate Training Center
You'll be interested to know that the founder of this place, Mr Zafar, earned his knowledge from Bangkok. Before teaching Shinkyokushin karate (traditional Japanese martial arts), he first taught the basics of martial arts and body training. Hit up this place near Islamia College (except on Fridays) and get a hold of this art. He also offers personal training and one on one coaching sessions which is awesome.

Vyshnavie Natya Centre
If you're into Indian martial art forms, Kalaripayattu is one that originated in Kerala and was practised by warriors. Classes here happen twice a week where you can learn the nuances of Kalari, body and mind control. Vyshnavie Natya Centre is located in two places, Secunderabad (near Diamond Point) and Banjara Hills, so go where is convenient for you.

Somasfit Taekwondo Martial Arts & Kickboxing Academy
You can learn all the forms of popular martial arts here. Somasfit Taekwondo Martial Arts & Kickboxing Academy has professionals who teach Kick Boxing, Boxing, Taekwondo, Hapkido, Karate & Mixed Martial Arts along with a bunch of fitness programs like Weight Loss, Body Toning, Flexibility, Functional Training, Strength & Conditioning, Cardio & Endurance programs. You can check out this academy in two locations, Manikonda and Gachibowli.

Comments