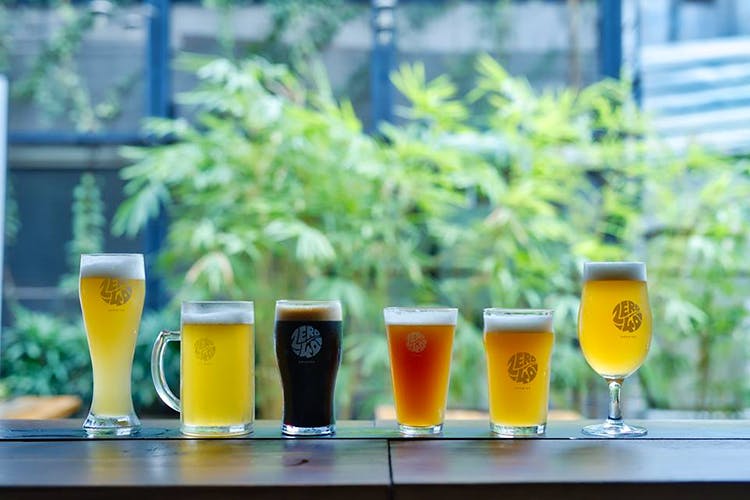 Brew Can Do It: Try All Kinds Of Craft Beers At These Amazing Breweries Around The City
Microbreweries have become quite the craze with city folk flocking to them like never before. More and more places serving craft beer keep coming up every week, and it's getting harder to pick a favourite. However, we've mapped some of the best ones not just based on the finesse of their beer, but also for their ambience.
Prost Brew Pub
Try all their brews from coffee, cider, wheat to Irish stout on the fabulous sampler set, and pick the one you love most. We love the fruit cider beer for its distinct sweet taste. They're known for being super innovative with their brews, with the latest being a Glitter beer made out of sugar, corn-starch and edible glitter (and boy, is it magical!). We say, get comfy in the stylish indoors, or sit out with your squad and watch live matches while you sip your delicious drinkies.
Hylife Brewing Company
Get a pitcher of Pilsner and Mausam (a brew that tastes like fresh fruit juice) while at Hylife. This microbrewery is spacious, with trippy glass floor lights and an outdoor seating that spreads across two floors. The food is nothing to die for, but the view from the rooftop definitely is.
Vapour Brew Pub
We love the pop culture wall frames and wooden furniture that lend Vapour a classy ambience. Pour yourself a glass of Wheat, Apple Cider, Blonde, American Lager and Stout beer and pair it up with scrumptious continental food. Their brews are super flavourful and have a lingering aftertaste.

The Hoppery
Perfect for hoppy brews and stunning views, The Hoppery has a satisfying sampler tray. White Spice Beer, Coffee Beer, American IPA and plenty more crafted beers from the brew masters here will make you want to return for more. Besides, the space is pet-friendly and you can hang out your pupper here too.
Zero40 Brewing
At this four-level microbrewery named after Hyderabad's city code — the food, drinks and live music scenes are epic! With seatings of all different kinds, from high seats to diner benches and a glass cut out seating to an outdoor ones too. It has seasonal specials like Mango Ale and Spiced Pumpkin Ale apart from the 1+1 on pitchers every Monday.

Broadway - The Brewery
This is the newest brewery in Hyderabad, at the moment, and has ace ambience. Right from the doodles and graffiti on its walls to the seating and green accents will make you want to stay. Samples of their craft beer from Hybrid Stout, Czech Pilsner, Hefeweizen, Hazy IPA, Saison, Cream Ale, Milkshake Oat Pale Ale are simply refreshing. The food can be super spicy, but we love the menu as it has rare dishes like Red Snapper Ceviche.
Comments