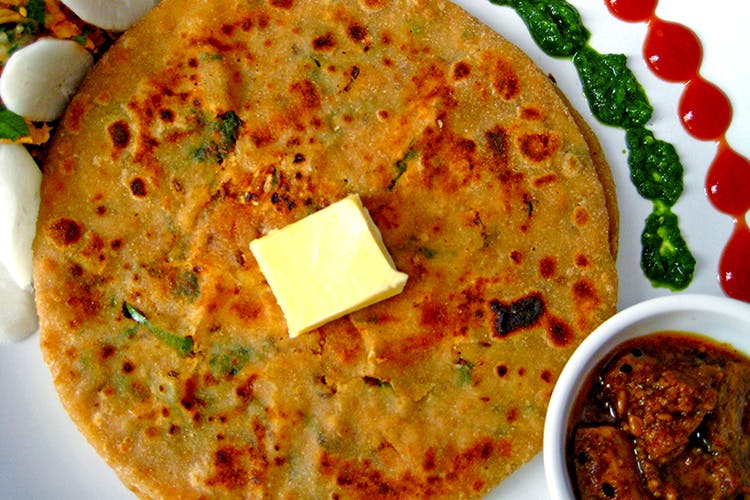 Homesick For Good North Indian Breakfasts? These Eateries Will Sort Your Woes Out
Are you from Paratha-land, and missing your mum's homemade breakfas? Here's where to get your fix of paranthas, kulchas, choley bature and all things North Indian, in Hyderabad.
Bikanerwala
Bikanerwala might be an iconic sweet shop, but you will find a flock of early birds here waiting on their dose of breakfast. For a variety of parathas like aloo, gobi-muli, mixed veg, and poori sabji. The pooris are fluffy and the sabji comes with munchy channa. Do keep in mind, though that the breakfast is not all day, and is served only until 10.30 am.
Tea Halt
Tea Halt has got a deal where you can score chai-nashta starting at INR 99 (until 12pm). Their menu includes vada pav and homestyle poha. So, when you're craving a Bombay or Pushkar style breakfast, this is your stop. The poha is served along with sev, onions, lemon, and tomatoes and is neither too spicy nor too oily. Pair it up with desi chai or try their Kashmiri Kahwa that we so loved.
Chutneys
Now, we know Chutneys is famous for its South Indian breakfast, but have you had the poori with sabji from here? It makes for a filling breakfast (although a little too oily), and the sabji comes with soft potatoes and a spicy, flavourful gravy. Not just that, but you can get choley bature here too.
Parathas & More
Parathas & More has some really cool combos like that of parathas and dal makhani/chole, or authentic stuffed Amritsari Kulcha with chole, raita, and chutney. The parathas are thick, and every bite is full of buttery goodness, whereas the kulchas can be a little bit spicy. The service can be a little slow here but is definitely courteous. Also, this place opens up at 11am, so it's perfect for those late weekend breakfasts.
Tollgate
Tollgate has a variety of cuisines available in their all day breakfast menu, from Chinese and Continental to North Indian to South Indian. so, the next time you're craving Laccha Paratha or Punjabi Sheermal, hit up this place. Besides, the prices are pocket friendly too.
Comments