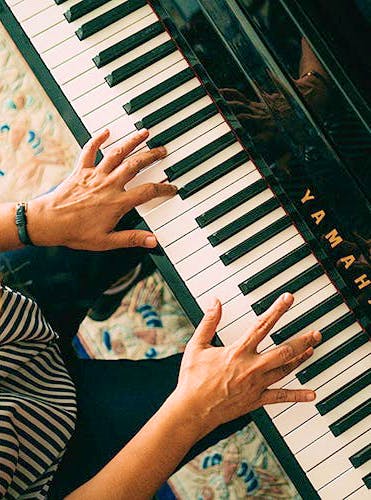 Budding Pianists, These Are The Best Piano Classes In Hyderabad
Want to give piano a try? Music enthusiasts, we've made this list of best piano classes in Hyderabad just for you. Whether you want to ace it like a hobby or go down the professional route, these classes offer thorough training and guidance for various music exams.
Philips Music School
A holistic music institute for both kids and adults, Philips Music School comes with 27 years of teaching experience. What makes this place awesome is the fact that this place is open throughout the week where you can choose your own days and timings. They have a fully equipped Acoustic and Digital Piano Labs for group and solo piano students. You can either go to their school in Gachibowli or Jubilee Hills, whichever is convenient.
Dolce Music Institute
Himayathnagar folks, get going to the Dolce Music Institute. Started in 1999, this place churns out up to 400 musicians every year and you can be one of them. If a piano is what you're looking to learn, trust their experienced faculty who pay individual attention to performance, aural development, and musical appreciation. Prices start from INR 6,500 per month including the instrument.
Shalom International School Of Music
Learn the rhythmic cues of a piano, get certified by the Trinity College London, and fulfill your musical dream at Shalom International School Of Music. Known for creating highly talented musicians, this fully equipped music school in S.R.Nagar boasts professionals who will guide you throughout your musical journey.
The School Of Rock
Located in Chandanagar near Kukatpally, this is a music school and a recording studio. They've got music enthusiasts who will help you ace instruments like piano, guitar, etc and allow you to jam with your mates in their jam room.
The Piano School
Looking for a personal piano instructor? Rebecca R Philip, a trained pianist from London College Of Music has a fully equipped home studio with a Yamaha Clavinova 7 series, and offers personalised classes at an affordable price. Affiliated to London College Of Music, she will guide you in preparing for the exams too. FYI, her studio is located in Kondapur.
Keys Western Music
Started by Hema Gulati Chandra, a former radio jockey for BBC Radio, Manchester, Keys Western Music School in Jubilee Hills offers one-to-one training for instruments like piano, guitar, drums, etc. If you want to take your passion for music a step forward, you can also under training for professional musical exams here. And if you don't own an instrument, don't worry, this place houses all the instruments that you can use for your classes.
Comments