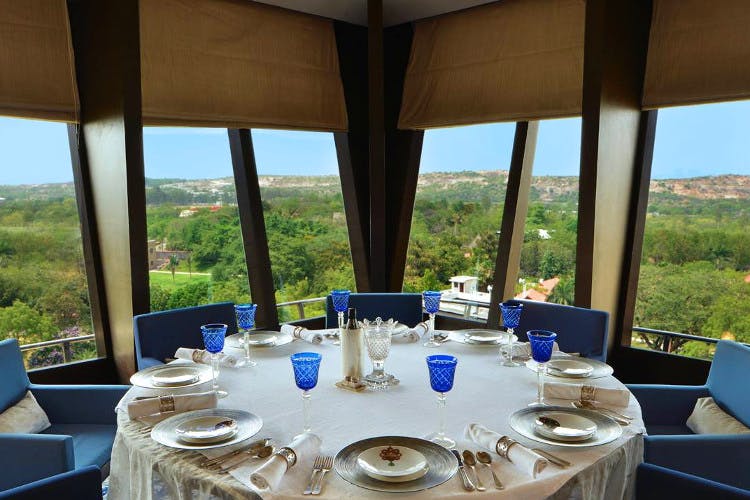 Got A Friend Visiting Hyderabad? Take Them To These Restaurants In Hyderabad
We totally get it. You've got a friend visiting Hyderabad and you want to take them to the best restaurants in Hyderabad. From biryani to craft beer, there is so much that Hyderabad offers. Don't you agree? So, here is our list of the best restaurants in the city. Food crawl ready?
Lé Vantage Cafe Bar
Lé Vantage is definitely lit during the nights, but we've spent quite a few afternoons here to vouch for the fact that it's better during the balmy noons. The vibe of the indoor seating is very Mediterranean, and the top floor of the cafe-cum-bar has an amazing ambience. While on one side, there are windows giving you the view of the outdoors, on the inside, it has walls with neon lights and bar scenes going on (Proper downtown NY bars feels). The music is usually pleasant during noon and perfect for conversations over wine.

Chicha's
Gotta love the weekend specials at Chicha's because there's haleem, marag, and paya to be had. Popular for its Khatti Dal, Gurda Fry, and quirky Hyderabadi ambience, Chicha's will offer you more than just biryani. Arrive with a hefty appetite, order the specials along with a Masala Coke and eat away.

Cafe Bahar
Started by a Persian settler who moved to Hyderabad from Mumbai, Cafe Bahar is a go-to for many Hyderabadis who enjoy the good things in life like Irani chai and biryani. A horde of loyal customers throngs the cafe throughout the day, and there is often a queue that stretches till the edge of the street. We were here for midnight biryani and asked for double masala in Hyderabadi Dum Biryani and what arrived was the most ambrosial dish — well-cooked chunks of meat, generous lashings of masala come together in making this biryani a top dog!

Jewel Of Nizam
Overlooking green gardens stands a tall white structure that houses the Jewel of Nizam, a restaurant that sounds (and looks) like something straight out of a fairytale. Jewel of Nizam — The Minar — is a fine dining restaurant located in Golkonda Resort, Gandipet. The intricate ivory decor and delicate chandeliers give the place a charming, elegant look and feel, and the cobalt blue crystal glasses and seating add a spunk of colour. But the cherry on top is the fantastic view from the tower, while you feast and clink your glasses to celebrate life in Hyderabad.

84 Anjuna Shack
Want to see a little bit of Goa in Hyderabad? Then 84 Anjuna Shack is where you must go with your squad. Done in a laidback ambiance with a seating that comprises basic (yet cushy) bamboo chairs, you will also stumble upon a flea market with apparel, jewellery, chappal, etc. Whether you are in the mood for waffles or pasta, this shack has a little something for every food lover. But we recommend the Spicy Goan Wings, which are juicy and finger-licking good. Plus, you cannot miss out on the Goan thalis like Goan Fish Thali which comes with Fish Rawa Fry, Goan Fish Curry, steam rice, and more.

Hotel Nayaab
Known as one of the first Irani cafes in Hyderabad to have sold haleem commercially, Hotel Nayaab is one of the must-visit places to go if you are in and around Charminar. Meat lovers, you've got to try their nihari which is served with sheermal or tandoori roti. With the right amount of tang and spice, this will set you back at INR 40 only (whaaaat!). Vegetarians, if you're accompanying your meat-loving friends, you can go for Dahi Bhalla, Luqmi. Prefer a heavier meal? Nayaab whips a phenomenal version of Paneer Butter Masala (topped with green chili, this is very spicy) that you can savour with butter naan. Wrap up the meal with Kesar Tea, their specialty, and strut out in glory.
Aish - The Park
A signature designer restaurant of The Park Hotels, Aish is perfect if you are up for a luxurious meal. With a Hyderabadi twist, of course. Aish welcomes you with a garland of pearls into a royal ambience. A silver door and a wooden treasure chest lend it old world charm, made even better with a monochromatic theme and opulent interiors done by renowned designer Tarun Tahiliani. Think sepia images and flattering lighting show, it a fusion of contemporary times with the Nizam's era. Go here for amazing biryani and haleem.
The Waterfront
Located on Necklace Road, The Waterfront is yet another classic that can make your evening beautiful. With live music situation going on some days, you can either take the indoor or outdoor seating. We love the outdoor as it has the view of Hussain Sagar, but mosquitoes can be a menace during the Monsoon. The restaurant has a Chinese menu, and they whip delicious Chicken Majestic and fried rice. So, if you are looking for a simple meal but want to score on views and ambience, this is your go-to. Plus, it's budget too!

Sahib Sindh Sultan
Tucked inside City Center Mall in Banjara Hills, Sahib Sindh Sultan is where we go for elaborate family dinners. The restaurant is themed after regal train carriages that transport you to the British Raj era, and if you are wondering what to eat here, we say it's biryani. If you take your meat seriously, there's plenty to dig your teeth into. But considering how stunning the place is, food will be the last on your mind.

Spicy Venue
If traditional Telugu delicacies are your thing, then you cannot miss out on the South Indian Thali at Spicy Venue on Road No. 10, Jubilee Hills. We love the dal and the flavoured rice, and we cannot recommend the biryani enough. The Avakaya Chicken Biryani is for the ones who love their dishes fiery, but the Chicken Fry Pulao is the best out there because chunks of tender chicken are deep fried and added to the biryani. However, what keeps taking us back to Spicy Venue is — Apricot Delight — a custard based dish that's made from apricot and hits the right spot. And we are telling you, if you haven't tried this, you've tried nothing at all.

Chaitanya Food Court
If all that takes to please you is well-cooked sambar rice or ulavacharu, head to Chaitanya Food Court in Kukatpally with a massive appetite and patience to get a table. This restaurant makes delicious Andhra delicacies and it's quite pocket-friendly too. So, if you're missing a simple homecooked meal with a generous helping of ghee, this restaurant beckons you.

The Himalayan Cafe
The Himalayan Cafe serves, arguably, some of the best momos in Hyderabad. If you love your momos with a bit of flavour, you might take a backflip after popping one. We recommend Mushroom & Cheese Momos and Schezwan Fried Momos, which are served with three types of homemade chutney. This is addictive, we warn you!

Sagar Papaji Ka Dhaba
Touted as a restaurant that serves the most authentic Punjabi food, Sagar Papaji Ka Dhaba is run by Kuldeep Dua and his family. Everything about the food here is homespun — it's homecooked, even the spices and masala are homemade. There is no fuss about the ambience and you should only worry about finding a table. When you're lucky enough to find one, the menu is handed to you right away and the service doesn't dawdle. An onion chutney and a plate of masala onions are first served, and the chutney goes well with tandoori chicken. But don't stop right there and dig into tandoori roti and Chicken Ashiana (a gravy-based curry), kheema fry. Can't get enough of the meat? Go for Kheema Khaleji (mutton liver).

Ask Sunaina a question