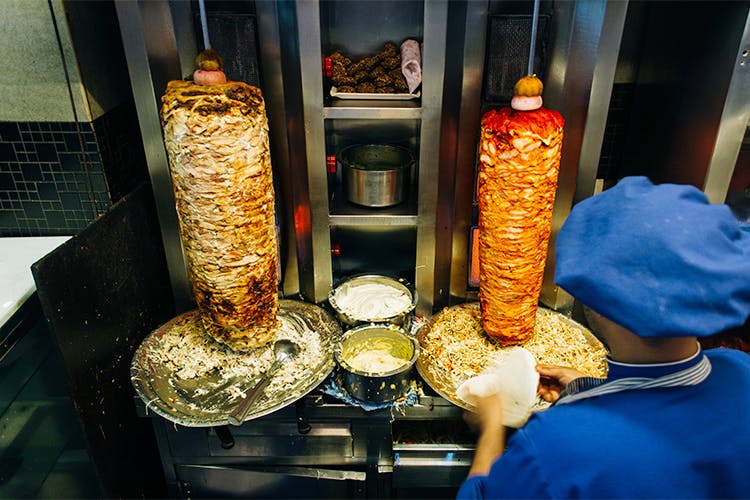 Classic, BBQ, Supreme: Here's A Tried & Tested Guide For The Best Shawarmas In Town
If Middle Eastern food gets you drooling, then this list of places to get the best Shawarma in town to make your hunt easier. We know how much this dish is loved by the city folk (and Ironman), after all.
Shawarma Corner
Shawarma Corner in Banjara Hills looks posh from the outside; is clean and cosy inside. Separated into AC and Non AC sections, get comfy here and pick from the Spicy or Classic shawarma that you can get wrapped in khubus, rumali or in a bun. The Spicy shawarma is full of Indian spices whereas the Classic shawarma has Arabian spices. Bonus points for the hygiene game maintained here, and for the seasonal dose of delicious haleem.
Turkish
Craving Doner Kebab Wraps & Shawarma Platters? Think no beyond Turkish, a fast-food joint in Mehdipatnam. The shawarma platter is worthy of a 'gram, and the taste of mayonnaise blends perfectly well with meat. Their Chicken shawarma is neither too crispy nor too soft (just how we like it!) and it comes at pocket-friendly prices. They have outdoor seating if you'd like to casually hang out with your squad, but we say get your wrap delivered to be devoured.
Friends Shawarma
The shawarma at this Banjara Hills kiosk is worth waiting in line for. Grand portions of meat, juicy flavours that are also spicy, rolled up in kuboos, rumali or samuli, what's not to love? They also have sahan and veg falafel (for your vegetarian friends), so take them here and relish some of the most amazing shawarmas in town.
Grill 9
Famous for its biryani, shawarma rolls, and mandi, there's no way we'd miss out on Grill 9. From Chicken and Cheese Shawarma to Zinger, and Supreme Shawarma, they have it all. If you're going here with vegetarian friends, they can munch on paneer and veg Rolls while you hog on their must-have Zinger shawarma. It has KFC style fried chicken that will make you come back for more.
Zam Zam Arabian Shawarma
The shawarmas at this Moti Nagar joint are so popular that people come from across the city to try them. They make the classic Chicken shawarma, wrapped in three kinds of bread (Samoli, Roti, and Khubus). They also make fresh mayonnaise every day and make Lays based shawarma too. No one can eat just one.
Bites Beyond Borders
When this hole-in-the-wall place popped up in Himayathnagar, we went for food tasting and fell in love! Bites Beyond Borders offers world cuisine at a single place, and shawarmas are definitely on the list. Take your pick from the Arabian Chicken Shawarma or BBQ Special Shawarma that comes with fries in it, and go gaga! The place is open until 1am, so late night cravings are taken care of. Did we mention that everything here is priced between INR 50 to INR 300 only? Yaaas!
Comments