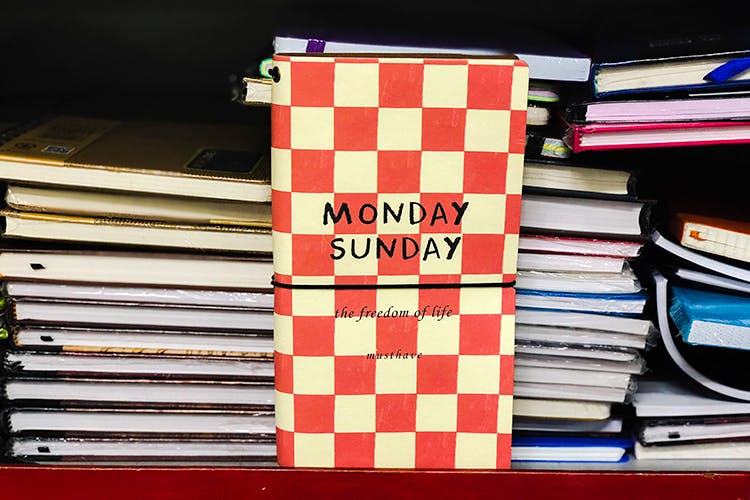 Stationery Addict? Put These Stationery Stores On Speed Dial NOW
In an era of everything digital, do you find solace in old-school sketchbooks, pencils, and art supplies? Do you find yourself often drawn towards stationery stores or call yourself a hoarder? These stationery stores are most definitely our constants and now, they can be yours too.
Shraddha Extension
Sraddha Extension is probably one of the oldest stationery stores of Hyderabad, with several branches across the city. Most of your art supplies can be found here — Moleskine papers, charcoal pencils, oil paint colours, canvas papers, pens, and pencils. Discover notebooks of different sizes and patterns. Readers will find particular joy in the pirate bookmarks or bookmarks modelled after cartoon characters. Plus, highlighters, Post-it notes and notepads across budgets. They also have amazing fridge magnets in shapes of cupcake, apples or boots for just INR 25. Check out their gifting and home decor sections too.

Walden
For the past 28 years, Walden, a landmark stationery store in the city has been the destination of choice for kids, artists, readers and stationery fiends. And the best part? You can find everything from washi tapes to calligraphy pens and pretty journals here and all on a budget. They do toys, gifting, books, and party props as well.

Kitsons Stationery
Kitsons caters to not just stationery lovers but also handicraft fiends. A wide range of pens, board games, puzzles, and travel games are found here. We found journals with boho designs, colourful patterns & minimal decor and plain covers that made making up our mind about which one's the best, harder. Drawing pens, cartridge fountain pens, ball pens and gel pens from various brands, both national and international were neatly arranged here. They cater to all your art needs from canvases (starting with 6x6) to easels, all kinds of paints, paint brushes and art kits for kiddies too.
Padmavathi Traders
For the past 50 years — artists, students, and retailers have been flocking to Padmavathi Stores for basic and extravagant stationery products. Apart from your regular stationery, it is probably the only place in the city where you can get black canvases and canvases in a triangular shape. Also, you can find a wide range of charcoal pencils and pastels, glue guns, art supplies.

Landmark
We always leave a piece of our heart whenever we visit Landmark, and if you're someone who likes minimalistic stationery, Landmark has to be your usual haunt. Whether you're looking for chalkboards or desk accessories and organisers, find them in numbers here. Plus, the collection of pens and artsy notebooks will take you back for more.

The Deccan Pen Stores
If you take your pens seriously, how can The Deccan Pen Store not be your second home? With more than thousands of pens, this iconic store specializes in fountain pens, handmade pens, and it has a dedicated repair section for pens. Deccan has a tremendous collection of pens ranging from INR 3 to 3,50,000. While the newer brands like Cello, ADD Gel have forayed into the store, Deccan's specialty lies in its handmade unbreakable pens (priced INR 1050 upwards) and a collection of fountain pens and pencils that are imported from Germany, Turkey, the USA, and more.

The Entertainment Store
Entertainment Store is for all those pop culture fanatics who love owning Tintin and Harry Potter stationery. Right from printed notebooks to bobbleheads and pens, this store keeps us in its yard for hours. Plus, its vast comic collection is good enough to make it our constant. Agree?
Miniso
It's almost a sin if we don't include Miniso on the list. Although it's primarily not a stationery store, it has one entire section dedicated to stationery and art supplies. Whether you're looking for highlighters, kawaii notepads, or DIY kits, the store has stocked up on plenty. And the best part? They're all budget.
Itsy Bitsy
At Itsy Bitsy, aisles of stationery, home decor, and DIY products will leave you grinning from ear to ear. In addition to the regular finds like canvas boards, easels, acrylic/water paints and paint brushes of all kinds, we found face, body, metallic and spray paints too. Their collections for sculptors, bakers, artists, and designers is impressive as it has items like wood carving materials, modelling tools, cake decoration sets, quilling kits, and calligraphy sets.

SV August 15th Stationery
SV August 15th is a fine gem in Gachibowli. This stationery and fine arts store is where both beginners and advanced artists can pick their art supplies. Touted as one of the swankiest art supply stores in Kondapur and Gachibowli, we've spotted charcoal drawing pencils, Kohinoor shading pencils, glue pens, acrylic colours, powders like sepia, graphite, charcoal at this store.

Comments