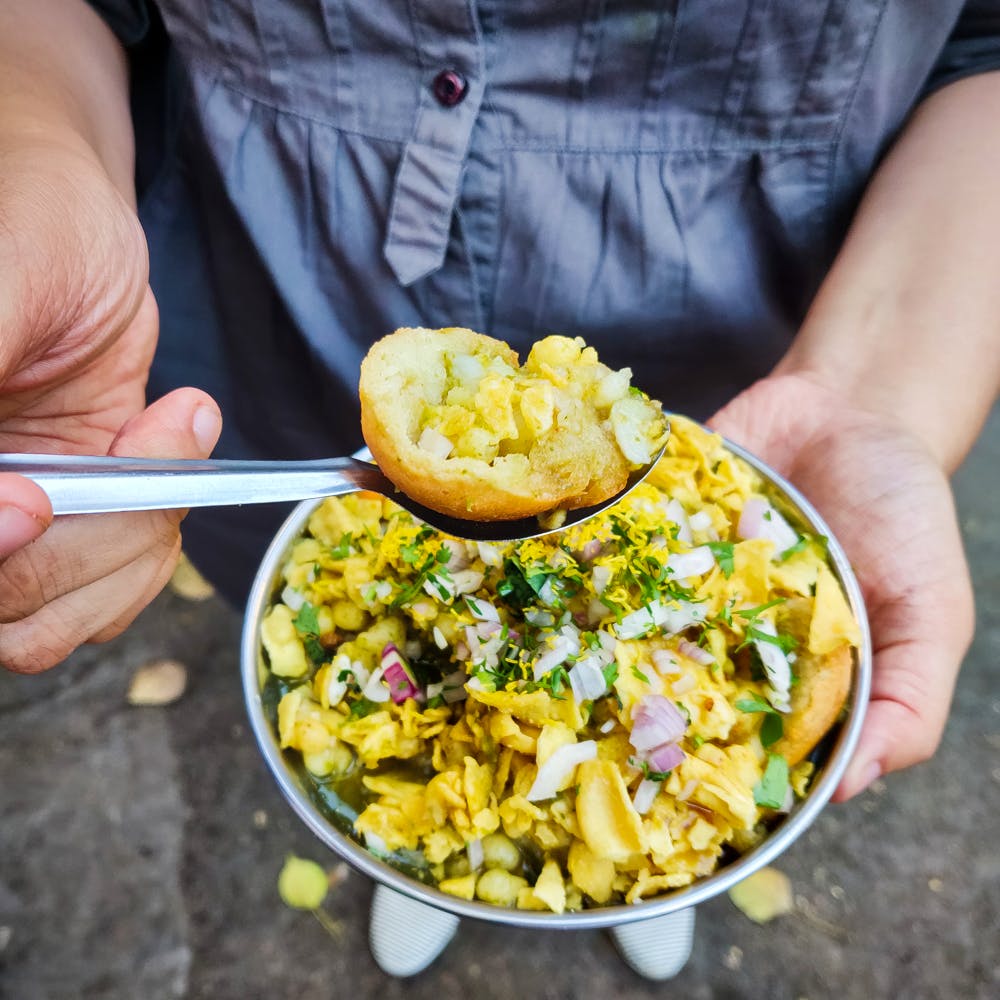 Here Are A Couple Of Places Where You Can Explore Hyderabad's Street Food Scene
What's a city without its street food scene, and in a city like Hyderabad, you'll find street food joints at every nook and corner. From your favourite pani puri bhayya to cutting chai chacha, so many stories are told at every joint. New to the city or want to explore the street food scene in Hyderabad? Here's where you can begin.
Sindhi Colony
As evening approaches, the streets of Sindhi Colony come alive with hungry folks rushing to get their fix of street food. Whether you're looking for pizzas or kulfi and even chocolate dipped paan, there's a little something for everyone here. Planning to do a food crawl with your mates? Go for the iconic pizzas at Pizza Den or start with dabeli at Chachaji Wadapav. There's also Dimmy's Pan Palace for you to try Chocolate Laddu Pan.

DLF
A popular hangout for tech folks and residents of Hitech City and its tech belt, the street opposite of DLF, Gachibowli is a treasure trove with abundant food stalls. Go here anytime after 9 pm, and you'll find it super crowded. Hustlers are always bustling in this food street with more than enough on one's plate. Stretching from DLF's Gate 1 to Gate 2, get dragged into stalls with dishes like shawarma, french fries, rice bowls, and more. There's AM-PM Maggi Point, Momos Delight that makes Momo Burgers & Kurkure Momos, tacos truck, and so much more. Know everything here.

IDL Lake
Line up at IDL Lake in Kukatpally by sunset to munch on Bamboo Chicken and Egg Rolls from nearly 15-20 food trucks that gather daily to cater to your snacking needs. You will be spoilt for choice with more than a hundred types of dosa alone. And there are shawarma, chicken wings, and Irani chai to be consumed too. Call it a night, by counting stars and your pennies, and then finish your street food crawl with ice cream. But before you leave, grab a chair, and watch the sunset. There are samosa and delicious noodles too!

Madhapur
Between Karachi Bakery and Pace Hospitals, on Madhapur Main Road, lies a 300-metre stretch occupied by a neat line of food trucks. You can tuck into Chicken Pizza Dosa from Attarinti Dosa or dunk you Ghee Idli in spicy chutney at Idli.Com. For those of you who don't mind fish and chips at any hour, you'll polish a plate or two before you move on to grills or shawarma. Finish up with Kesar Faluda At Balaji Ice Cream And Kulfi.

High Court Ki Jalebi
If you are seeking hot samosas and jalebi when you are in Old City, High Court Ki Jalebi is an answer to all your gastronomical prayers. Originally a tiny kiosk in front of the High Court, it grew to a significant size over 50 years but is still known as High Court Ki Jalebi (a name it gained because of its location. Its actual name is Jai Maajisa!). Apart from just this joint, there is a whole line-up of eateries next to each other that whip delicious samosa, kachori, jalebi, and khara.
Begum Bazaar
The streets of Begum Bazaar are sure to draw you in with the aroma of chaat and pav bhaaji. Known as one of the best street food places in Hyderabad, we go here for Bread Pakodas and Raj Kachori at Sri Jodhpur Mithai Ghar. Try the ghevar at Begum Bazaar Chatri or tuck into delicious dosa.
Madhura Nagar
The streets of Madhura Nagar come alive during the evenings. Want to grab manchuria at INR 20? Yup, the street food is really that inexpensive here. Right from sweet corn, mirchi bajji to desserts like junnu, there is so much for you to try. Park your vehicle near the More Supermarket and walk the stretch of this street. Don't forget to carry cash because they don't even accept Paytm.
Ask Sunaina a question