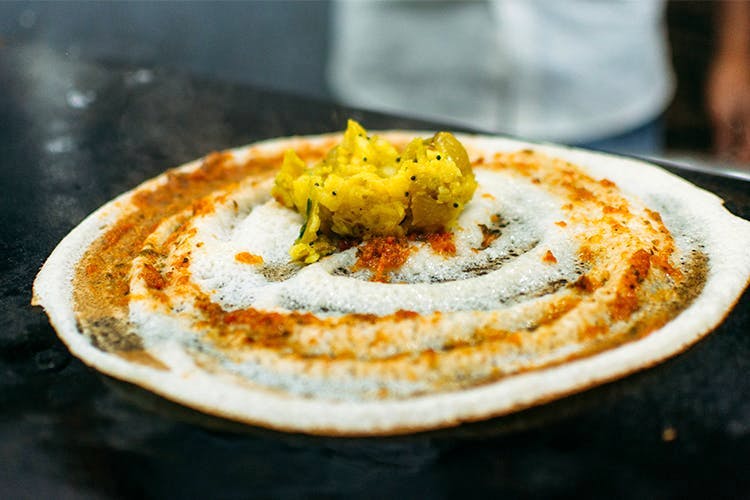 Dosa Time! Stuff Your Face With Delicious South Indian Food From These Tiffin Centres
Breakfast at Tiffany's? No, no. Hyderabad prefers its tiffin centers for their delicious serving of South Indian food. To get your fix of dosas and idlis, here's a list of few iconic tiffin centers in Hyderabad that you can hit up, nice and early.
Pragathi Tiffin Center
Located at Hanuman Tekdi, Pragathi Tiffin Center is apparently one of the oldest places serving dosas in the city. We loved the Butter Paneer Masala Dosa here, but the idlis really made us its loyalist. If you love your idlis dipped in sambar or chutney, or both — you must go here. However, don't expect anything fancy as it is merely a roadside stall which is hygienic.
House Of Dosas
Step into
House Of Dosas
, and find a wall full of post-its from visitors raving all things amazing about the food here. Pick a cosy corner or settle on their bar-styled seating and ask for a Pizza Idli. This dish is crumbs of flavoured idli with pizza toppings served along with coconut chutney. May we say out of the world and better than a pizza? The fusion of butter soft idli and pizza toppings is an experience every foodie must sign up. Wrap up your meal with a Nannari Sharbath and leave a good note and post-it on the wall.
Govind Ki Bandi
Find yourself being dragged towards this little kiosk, Govind Dosa (also known as Govind Ki Bandi), with its all-engulfing aroma. Tawa Idli or freshly-tossed dosa, you are in for a treat. Served along with coconut chutney, there are several options for you to explore, but we implore you to stick to the basics like Butter Dosa or Ravva Dosa for they melt in your mouth. Careful before you dig in, though, because these are served steaming hot. But with a bottle of water in your kitty, you're sorted.

Narayana Tiffin Center
This hole in the wall tiffin centre (also called as Babai Hotel) has an open kitchen and limited seating. But, its loyalists swear that it's their favourite place for breakfast, and is open as early as from 3.30am. Try the Ghee Upma Dosa with podi and allam pachadi. The Peserrattu and Punugulu here are worth a mention too because they are served with generous amounts of ghee. The best part is that you can get all of the tiffins within a range of INR 20-30.
Royal Tiffin Centre
If you're bored of the plain, simple dosas and idlis — get to Royal Tiffin Centre in Abids for innovative versions of the same, and more. The Special Pizza Dosa, Pasta Dosa, Manchuria Dosa, Idli Butter Cheese Dosa will get you drooling. While here, also try their uttapams and upmas. Although, it may look sort of cramped, they have decent seating and have maintained cleanliness. It is also pocket-friendly, with prices starting at INR 25.
Kakatiya Tiffins & Meals
Kakatiya Tiffins & Meals is a basic tiffin joint in Banjara Hills that runs full house right from the time it opens and you'll find big groups of youngsters and food lovers huddling for their share of uthappam, karam dosa, Mysore Bajji. Served with four types of chutney, the good peeps behind the counter will help you with deciding what chutney goes best with your breakfast. It doesn't matter what you choose, you are in for a treat with their idlis generously dunked in chutney or egg dosa for those of you who prefer egg for their breakfast.

Comments