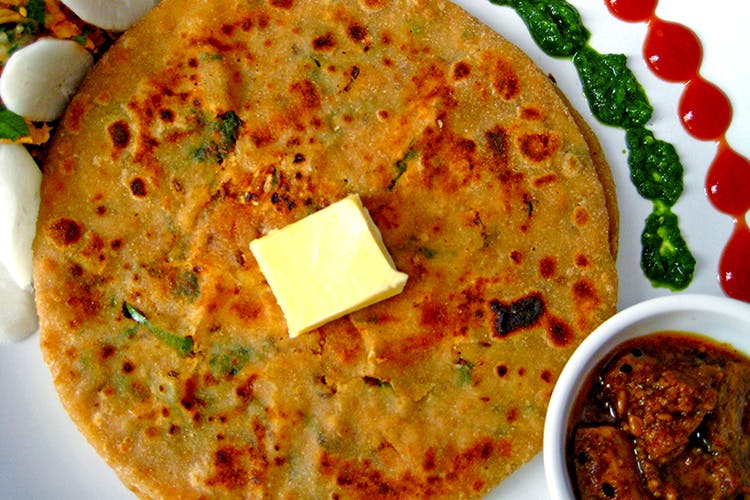 Nutella Waffles To Kal Dosa: Treat Yourself To These Killer Vegetarian Breakfasts
Tough to imagine your breakfast without crispy bacon and succulent sausages? Then our handy list of vegetarian breakfast spreads in town will not make you miss your meats. From trending smoothie bowls to delicious Pizza Idli, we got you a bit of everything. So, grab your keys, and bolt to these places, one day at a time.
Avocado Breakfast Smoothie Bowl At Pulp Pressery
Located in the lanes of Jubilee Hills, this garden cafe can give you major health goals. Known for its delicious smoothie bowls and parfaits, it hauled us into its laid-back vibe for a Sunday morning breakfast. While we tried the Organic Poha and Oatmeal Pancakes, it was the smoothie bowls that we found fetching. The Avocado Breakfast Smoothie Bowl is a good blend of avocado, banana, spinach, and chia seeds. We loved how it had a mix of different flavours – while the avocado and banana made for a sweet bite, the spinach gave a tinge of tang that we loved between bites. The chia seeds and almond flakes made for a good crunch. This dish is very filling and we recommend you opt for their regular bowl instead of the large one unless you want to ditch lunch.
Nutella Wofl At WOFL
Where do you get the best waffles in town? WOFL, of course! With a decor that's pleasant to one's eye, it attracts kids (spot them gawking at the cartoons on the wall) and youngsters with its pocket-friendly menu. We tried the Nutella Wofl which comes with generous helpings of Nutella that'll leave you licking your fingers for good. While the mini waffle is ideal for kids and the ones with low appetite, the regular one can be quite filling. The best part about these waffles are they're served crispy, and the Nutella doesn't make them soggy. Also, did we mention their waffles are eggless? Plus, they have three branches in the city.
Pizza Idli At House of Dosas
This delightful blue cafe in Banjara Hills is full of surprises. Step into House Of Dosas, and find a wall full of post-its from visitors raving all things amazing about the food here. Pick a cosy corner or settle on their bar-styled seating and ask for a Pizza Idli. This dish is crumbs of flavoured idli with pizza toppings served along with coconut chutney. May we say out of the world and better than a pizza? The fusion of butter soft idli and pizza toppings is an experience every foodie must sign up. Wrap up your meal with a Nannari Sharbath and leave a good note and post-it on the wall.
Kal Dosa With Wada Curry At Tollgate
Tollgate can liven up your mornings with its quirky wall art and automobile-inspired decor. If you're someone who likes early breakfasts, this place in Jubilee Hills opens up at 7 am. Go for their indoor seating, ask for their classic Kal Dosa & Wada Curry and wait for an encounter with ambrosia. Kal Dosa, a South Indian specialty is light and less-oily fluffy dosa; the Wada curry is a thick South Indian delicacy that complements dosa, idli etc. Its consistency is maintained with Bengal Gram while the flavour is enhanced with coconut milk. We love this comfort meal as it reminds us of homemade food. We gulped down our dosa with rounds of filter coffee, and we are sorted for the day.
'Upma' of Quinoa & Broccoli At Santè Spa Cuisine
Popular for its farm-fresh food and healthy meals, Santè Spa Cuisine is where we go for scoring large breakfasts. We particularly love this quinoa upma that has lots of broccoli. If you don't relish broccoli, the chances of loving it are high after you try this one. This mildly spicy upma is extremely filling and we suggest you share it with your bae. Served with plenty of greens, let's just say that you won't wait for lunch hour with a breakfast like this.
Rice Pongal At Minerva Coffee Shop
If there is one thing that takes us back to Minerva it is their Rice Pongal. Served with spicy tomato chutney (which is more of curry with onions and mirchi) and raita, this dumpling of Pongal is perfect if you're craving something authentic. Go here for this dish and filter coffee, and start your day right. If you're a chutney lover, be sure to ask for their coconut chutney.
Mix Veg Parantha At Whiteboard Cafe
Healthy breakfasts are a thing at Whiteboard and this all-vegetarian cafe is also for its filling Mix Veg Parantha. Served piping hot with a pickle, onions, curd, and cut lemon, this dish can resolve your paratha craving. While we love this stuffed paratha because Whiteboard adds its own twist and makes it less greasy. We say, grab a seat by the window, groove to Vidya Vox's numbers they play and devour this paratha. While you're at it, pick a coffee of your choice too.
Comments