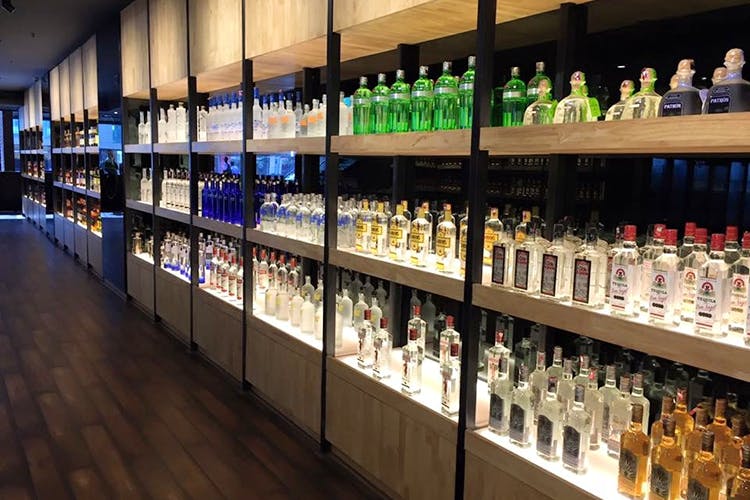 #LBBPicks: Here's A List Of The Best Wine Shops In Hyderabad
Come Friday, beer lovers, wine connoisseurs, cocktail enthusiasts walk into liquor marts to pick their share of poison. Whether you are new to the city and don't know where to get alcohol from or want to throw a house party with the best daaru you can get in Hyderabad, here's a list of best wine shops.
Tonique
Saunter into Tonique and get deluged by the endless rows and aisles of alcohol. Looking for imported scotch or beer? Or want to get yourself a bottle of New World wine? Whatever is your poison, Tonique can take care of it. It houses more than 1,500 brands along with a great selection of single malts and blended whiskeys like Talisker, Glenlivet along with cognac such as Remy Martin, Hennessy. We recommend you check out their miniature collection with everything from Vat 69 to Black Dog and The Glenlivet, Chivas Regal and Teachers 50. And what's not to love? The prices begin at just INR 130.

Liquor Bank
Liquor Bank in Banjara Hills has plenty of miniature Indian wines, and we have never spotted a liquor mart that retails tiny bottles of wine at INR 120 and upwards, and we know where to go for our house party stash now. Spot aisles and aisles of Indian Wines like Sula, Madhura Wines, Fratelli, Big Banyan that share space with gins like Bombay Sapphire, Beefeater, Gordon's, and Seagram's. Plus, the bank has an awesome beer collection.

Q By Tonique
Q By Tonique is located in Manjeera Trinity Corporate in Kukatpally. As the name suggests, this liquor mart belongs to Tonique, and the ambience is quite similar. As you walk in, you'll be welcomed by a large counter with a vast collection of miniatures behind. Everything from Vat 69 to Black Dog and The Glenlivet, Chivas Regal and Teachers 50 are on offer. And what's not to love? The prices begin at just INR 110.

Janapriya Liquidz
Janapriya Liquidz is located inside Inorbit Mall, and if you pop by the mall for shopping, do pick a bottle of wine or rum. The store is quite small but always swamped. We love their wine collection which stocks up on both Old World and New World Wines along with local favourites like Sula, Krsma. The service is amazing, so if you cannot find something, do ask for help. On your way out, you'll find a meat section right next to the store. Would you like some grills along with your dranks?
SS Liquor Mall
SS Liquor Mall in Ameerpet is Hyderabad's first walk-in liquor mart and it has been our constant ever since we turned 21, a couple of years ago. Whether you are looking for a bottle of Cîroc or Jura, we love how this store maintains a fine balance between exotic and desi liquor.

JNV Liquor Mall
From Johnnie Walker, Vat 69 to Malibu and Old Monk, JNV Liquor Mall in Madhapur is quite a hidden gem. Although it looks shady from the outside, walk in to find aisles and aisles of good drinkies waiting to be picked. The store has an awesome beer and breezer collection, but Indian liquor brands take a higher stand here.
Comments