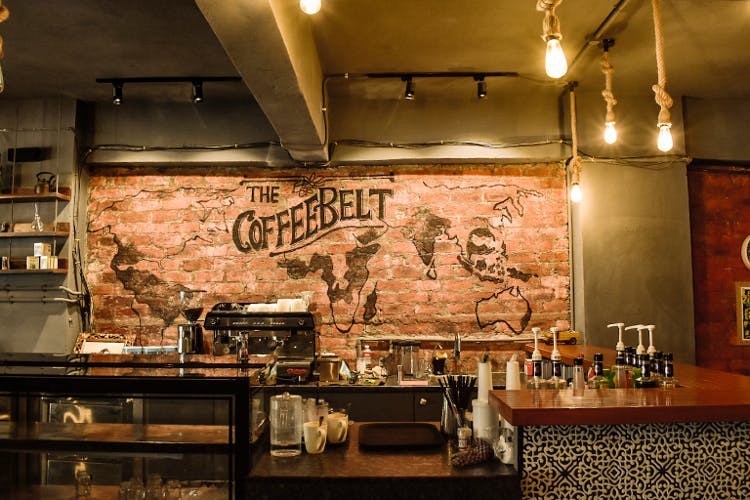 Artsy Walls & Swing Seats: This Madhapur Cafe Scores High On Coffee & Ambience
Shortcut
The Big Cup Theory is wooing everyone with specialty coffees and impeccable service. We're giving it all the brownie points in the world for the hand-painted walls.
What Makes It Awesome
A cafe kneaded with love, The Big Cup Theory is located in Madhapur. Check out ceiling high fairy lights, hand-painted walls (done by the owners), corners with books and typewriters, and a lofty red brick wall with little knick-knacks picked from Mumbai's Chor Bazaar. We caught up with Moxa Kothari, an interior designer who opened this cafe and enjoyed our conversations over coffee with her. A trained barista herself, she designed not just the specialty coffees but the cafe too. If you are big on Instagram or Snapchat, you will find several walls to pose against. Complementing its old-school charm is the music they carefully handpick. The wooden seating (nothing fancy) and the swing seats in the outdoor section lend to a vintage look the cafe has. Plus, the hand-drawn maps on the unfinished red brick wall behind the counter can easily transport you to the downtown cafes of New York.

Moving on to what we were here for — coffee. Moxa has spent nearly two months in Coorg's coffee estates to understand the crux of making a good coffee. And lo and behold, what we have today is a wonderful array of coffee. The menu also boasts of a great tea fix. We were told the coffee is roasted in-house, so we proceeded to try the Irish Black Coffee and Dark Chocolate Spiced Mocha — both of which were brewed by Moxa. While the black coffee had no rum, it still tasted nearly authentic but it was the mocha that took the glory walk. Spicy, chocolatey, and a smooth texture, it wins a nod from us. We also tried out plates of Egg Shakshuka and Paneer Skewers. The shakshuka was loaded with just tomatoes and egg and tasted more Indian than Mediterranean. Although it tasted quite good, it can do with a few tweaks. The paneer was a small plate and for that price, we would have loved if it was accompanied by salad and more choices of sauce. So, the next time you're looking for a caffeine fix, rush here!

What Could Be Better
The food is mediocre at its best, and we hope they improve it!
Comments