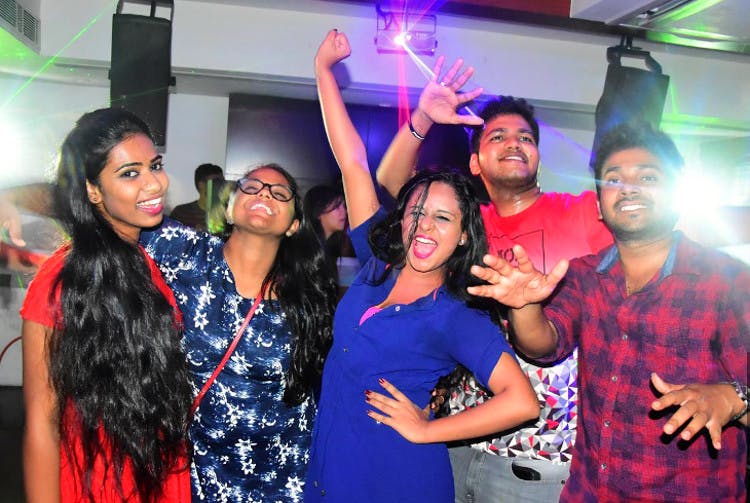 Say Shava Shava: Dance To Your Favourite Tunes At These Bollywood Nights In Town
Hyderabadis might be global citizens, but we do enjoy good Bollywood numbers from time to time (Honestly who doesn't when they're three pegs down?). So, for a night of thumkas, tequila and your favourite tunes from Bollywood, get to one of these bars with your squad and dance like no one's watching.
KISMET - The Park
If you fancy some neon lights, good food and amazing mixes by the DJ (We often go here when DJ Piyush is playing!) — get to Kismet on any Friday night and have an epic time. Sing along to the Hindi songs with your friends and watch the entire place have lit vibes.
Timings: 8pm onwards.
Social Monkey
We made an unplanned trip to Social Monkey one Saturday evening and ended up liking the Bollywood night. The place might appear sombre to some, but once the DJ starts playing the music, it is a lively affair. They also have a 99 menu, so you can grab dinner, drinks and then dance away the night.
Timings: 7pm onwards.
10 Downing Street
Spending Sunday night with your Bollywood crazy fam? Take them to 10 Downing Street. The entire place is grooving to popular beats, romantic songs as well as some mad mixes here. Need we say anything about the ambiance and food here? It's top notch! We're getting our yummy lasagna and beer already.
Timings: 8pm onwards
By The Bottle
Quirky wall art and beautiful ceiling lights lend By The Bottle a vibrant atmosphere. The music is blaring, and they often have live screening of sports as well. But, come Wednesday night and the entire place is crowded with a Bollywood loving bunch tapping their feet to songs old and new. Ditch the food, though and gulp some shots quick to unwind like a boss mid-week.
Timings: 8pm onwards.
Aqua
Weekend seems far away when you're craving alcohol along with some Arijit Singh songs. Don't you worry, because Aqua has Bollywood nights every Thursday night. Get ready for pool side dancing with bae or bros, and latest Bollywood numbers spinning out in the air.
Timings: 8pm onwards.
Club Rogue
Club Rogue doesn't really have special Bollywood nights, because they play the best of Hindi music every night. You know what that means right? If you have that one friend who goes gaga over desi music, promise to take them to Club Rogue any day and they will love the playlist. The crowd can get wild even on a regular weekday, but we only have the DJ to blame who spins out some amaze-ball tracks. And, no the party don't start till you walk in, wohoo!
Timings: 10.30pm onwards.
Didn't include your favourite Bollywood Night haunt? Tell us in comments!
Comments