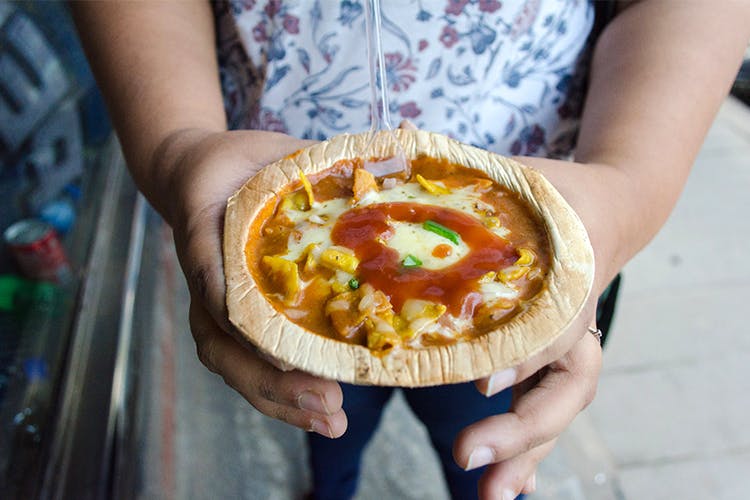 Forget Maharaja Chat, Have You Visited This Iconic Place In Secunderabad?
Shortcut
Bombay Chat & Ice Cream located on M.G. Road, Secunderabad is the first stop to eat for shoppers who visit General Bazaar. No matter how many chaat pit stops are around, this place has a loyal following.
What Makes It Awesome
Opening its shutters at 11 am, Bombay Chat runs till the wee hours of midnight, satiating both midnight and morning cravings. At the entrance, you'll find a stall of Pani Puri and the cooks whipping aloo tikkas and pavs. Walk into the place and you'll find neatly arranged chairs and tables. Do not expect something fancy here, because it's basic but serves great food.
The wafting aroma of Pani Puri and chaat might lure you into the greed of ordering a great deal, but we warn you – the portions are large. Having said that, we recommend you try a combination of two dishes. Start with their Hot Tawa Sandwich, which comes with delicious mint chutney or Veg Cheese Sandwich that's laid out in front of you with generous helpings of cheese. These fusion sandwiches are stuffed with minced aloo tikki, cucumber, tomatoes, and onions. Move on to their Cheese Pav Bhaji, which we swear, is one of the best Pav Bhajis we've had in the twin cities. It's served piping hot with cheese dripping over the bhaji. Add a dash of lime and savour it!
They also make Dry Fruit Butter Pav Bhaji, which has an interesting taste because of the dry fruits, but it's something you must try. If you're looking for something light, go for the Dahi Puri or Dahi Papdi or Aloo Chat 65, which is again a combination of chaat with aloo 65. Still got a place in your tummy? Then finish off with a plate of Masala Puri (Or as Hyderabadis love to say – one plate special) and Jeera Soda.

Pro-Tip
If you have a sweet tooth, you can ask for a Matka Kulfi or place an order for a fresh fruit juice next door at Nice Juice Center, who gladly serves it along with your food.

Comments