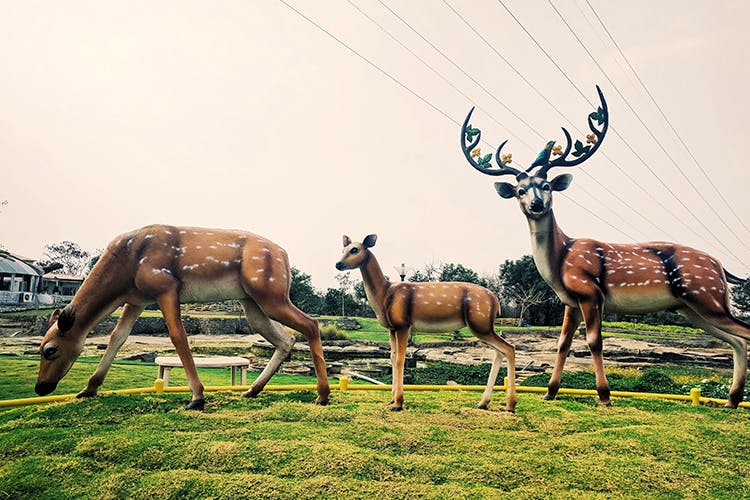 Outdoor Gym, Picnic Spots & Gazebos: This Kondapur Botanical Gardens Offers So Much
Shortcut
Botanical Gardens, situated at the centre of the concrete urban jungle that is Kondapur, is a jungle within itself. Flourished with horticulture, picnic spots, rock formations, and sprawling meadows, this park can switch on your fitness game too with its outdoor gym.
What Makes It Awesome
At first glance, Botanical Gardens appears like just another park. It is only when you explore it properly you'll discover stuff worth doing. Spread across 120-acre area of land in the Kothaguda Reserve Forest, this park is said to have nearly 600 species of plants. The moment you enter it, you'll be greeted by bougainvillea and natural rock formations. Walk a little further to discover clean gazebos and straw huts with humble seating. Modelled as dry forest, it attracts various insects and birds. And oh, watch out for those frisky and feisty squirrels that are more than willing to accompany you on your walks. The trees are conveniently labeled with their names and family. A large section of land is also allocated for succulents and cactus, while the walls are being prepped for paintings and art. Lounge around for a bit, or stay for a sunset syndrome with a book or some art. On your way out, pick up a Chocobar from Creambell ice-cream cart. We say – explore and find your tribe of squirrels to run wild with.
Pro-Tip
There is more than a running track here. While there is a gym that's housed inside a dome with a giant turtle on it, there is also an outdoor dedicated area where you'll find gym equipment installed. This is an interesting concept because it resembles a children's park area but on taking a closer look, you'll understand that they are non-electrical versions of equipment – cross trainer, elliptical trainer etc. Along with twisters, inclined bench press, and more, this outdoorsy gym is best for beginners and for someone looking for a fitness routine under budget.

There is a monthly pass (INR 400) and yearly pass (INR 1,500) that regulars can opt for.
More Information
Sri Kotla Vijaybhaskar Reddy Botanical Garden
Comments