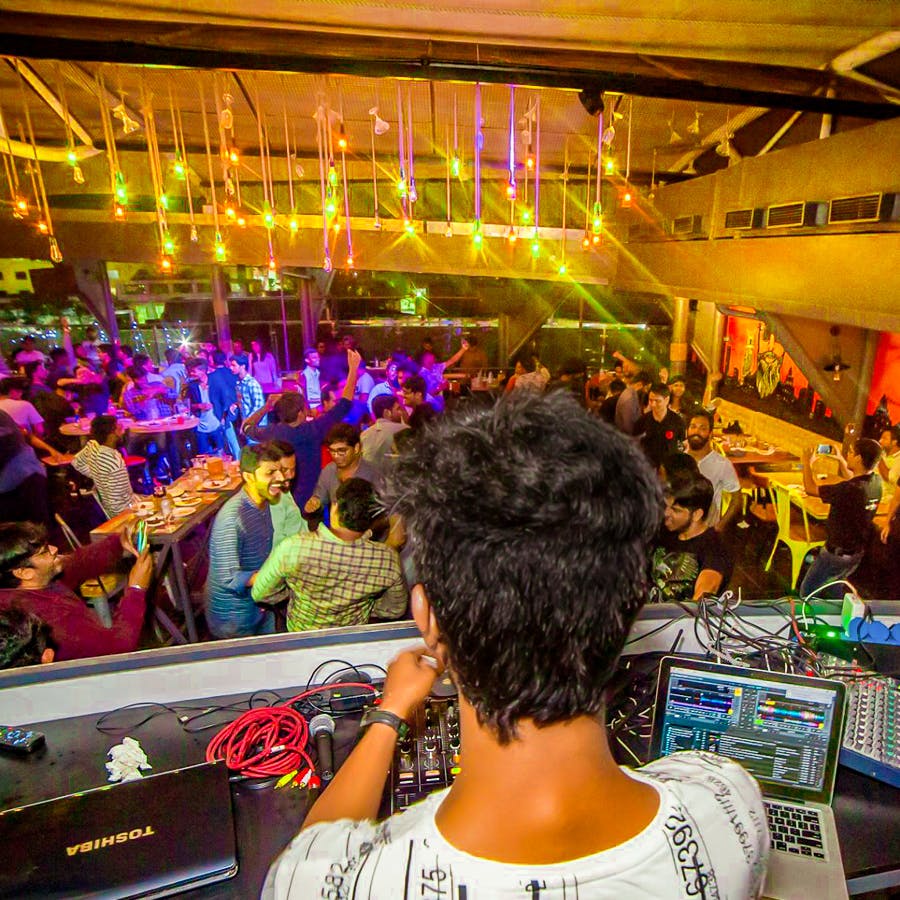 Unwind After Work At These Bars In Hitech City With Best Of Deals, Music & Ambience
Come evening, the Silicon Valley of Hyderabad is lit! Since it's where most working professionals find themselves at, we find them either stuck in traffic or standing behind the lofty glass windows with an earnest hope that the traffic will dwindle away soon. But why do that when you can hang out at a bar, catch up with your friends, and unwind after a long day of work? So, pick your laptop bags, techies, follow us into the coolest budget bars in Hitech City, and eat, drink and make merry.
Hoppipola
The door that leads you to Hoppipola is surely out of a Sanjay Leela Bhansali's movie set. Reminding you of Devdas or Saawariya, this bar allows you to take in its bright yellow walls and moody ambiance. The view of the Hitech City Road and Shilpa Kala Vedika from one end of its seating area can help you keep an eye on the traffic too. They have a separate menu for drink deals apart from the drinks menu. The deals are priced at INR 99 and INR 99+69. If you love your Pink Cosmo or Bloody Mary a little too well, grab it at INR 99, but if a Long Island Ice Tea is your kind, it's at INR 99+69. The all new food menu is enticing — along with its old specials, and new entrants. We recommend the Chicken Trilogy, Peri Peri Biryani (oh so spicy!), and Nacho Libre.
The Lal Street - Bar Exchange
The stock market is volatile — with its rises and dips. At The Lal Street (a pun on Dalal Street, Bombay Stock Exchange), the price of liquor is also volatile. Located inside the SLN Terminus Mall, Gachibowli, The Lal Street's walls are painted in pop colours and graffiti art of Batman's Joker, Monopoly board game and more. It's the first stock market bar of Hyderabad and to order drinks here, you have to download their mobile application, check the prices (they ebb and flow), and order when it's the lowest. We've noticed that the prices are usually cheap when the day is just beginning and rises high as night begins. Order their Peanuts Masala or BBQ Chicken Wings, and a pint of beer which might cost you less than INR 200.
Over The Moon Brew Company
It's dishonourable to refuse a beer is what OTM says. With a pint of beer costing you only INR 160, you'll also find stuff that doesn't weigh heavy on one's pocket. A painted OTM bus in the courtyard welcomes you into the bar with colourful floors and plush seating area. Pick the outdoor seating if you are looking for less noisy space, but we recommend the indoors and their Special Drinks menu that has plenty of cocktails, infused drinks (vodka or white rum infused cocktails), and classics like daiquiri and martinis done in OTM style. With drinks, order the food off their Truckers Stop like Pita Cones stuffed with tomatoes, olives, cucumbers, sour cream, and a choice of chunky chicken or grilled prawns.
Heart Cup Coffee
Heart Cup Coffee (HCC) is known for its events. Whether it's live music scene or stand-up comedy, HCC ignites it first. The evenings here can never be drab, and the place has all the potential to turn your day from ugh to whoa. The graffiti of Bob Marley, Marilyn Monroe, and the like assures you that you're in a good company while the music allows you to let yourself some loose. Cut yourself some slack on weekdays and get here. Order some beer and peanut masala. Nothing fancy, just plain ol' comfort drinks and food.
Thirsty Owl by Revolt 2.0
With wall art and lights suspended from the ceiling, Thirsty Owl by Revolt 2.0 has amazing happy hours with drinks and food at INR 79 only. From 4pm-9pm, you can grab Smirnoff, Bacardi White, Kyron, Tuborg Green at INR 79 each and you can also pair them with Crispy Pepper Chicken, Fish Fingers, Chilli Chicken, and more starters at the same price. A few drinks like Budweiser, Black Dog 8 Years, KF Ultra, and Carlsberg are priced at INR 129 though. But nothing at prices that'll burn a hole in your pocket.
Comments