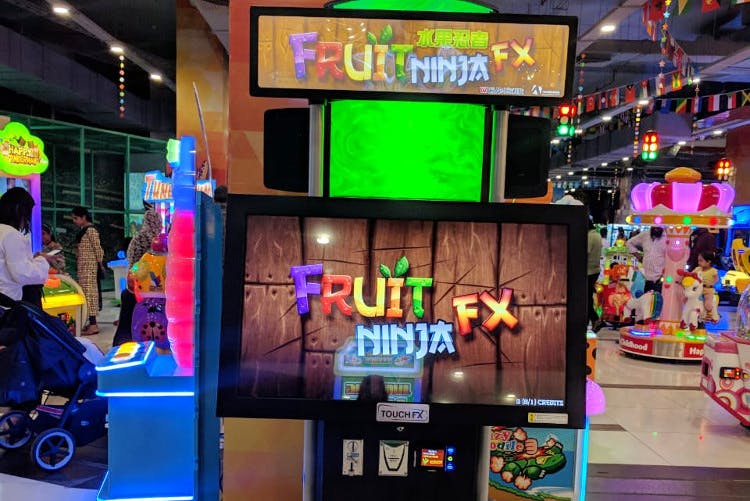 Have You Checked Out This Gaming Lounge In Punjagutta Which Looks Like A Carnival?
Shortcut
We've been waiting for a proper gaming and bowling alley that's also well-lit and spacious. And boy, do we have one or do we have one? And the icing on the cake is it looks like a fancy carnival.
What Makes It Awesome
Kick some ass like a true warrior at Busters — a gaming and bowling lounge in Next Galleria Mall. As we entered, we spotted soft toys on the walls and teddy bears hung from the ceiling. Several country flags are also suspended from the ceiling making it a pretty sight. We geared up for some bowling and dashing cars but when we reached there we found more fun things like VR, Spin & Win, box football, Pirates of Carribean, and good old Road Rash. Along with arcade gaming, there are popular mobile games like Fruit Ninja, Subway Surfers, Temple Run. We ganged up and played against each other at Ice Hockey and competed for best scores with Super Bike rides. Scattered around the gaming area is a sweet spread of small games that don't really cost much but are super fun, especially when you're with a big group.
Kiddies will definitely love Sweet Land 4 (Sakura Version), Jumping Rabbit, or ride unicorns and ponies. While the environment is amped up with modern facilities, it also reminds you of a fine country-side fiesta. So, the next time you're making elaborate plans to hang out with your friends, get here.
What Could Be Better
While it has many games that the other gaming arenas don't offer, we'd love some Dance Dance Revolution. Plus, the waiting time can be a lot during the weekends, so a tiny seating area would be really helpful.
Pro-Tip
If you are not the kind who can handle a massive crowd, steer clear from this arena during weekends. But even on weekends, beyond 8 pm, it gets secluded.
Comments