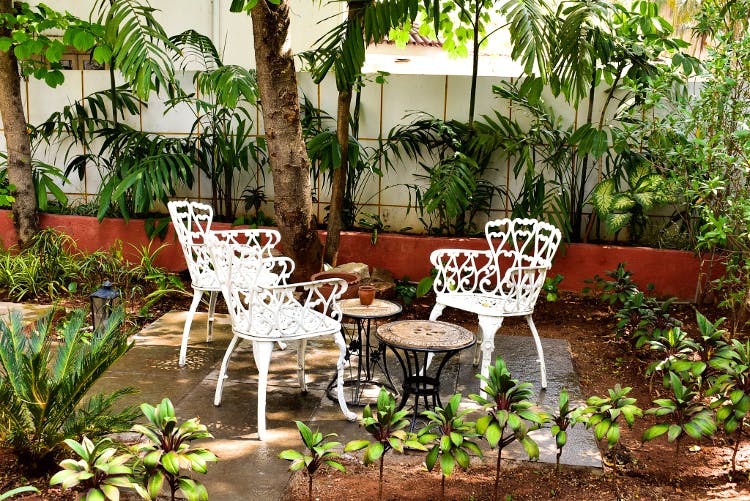 Ditch Those Boring Cubicles & Head To These Cafes With WiFi To Work Out Of
With so many youngsters working on and for startups, working out of a coffee shop is a way of life. Hyderabad too has a list of comfortable cafés with WiFi, you can head to for work. Here are some of our favourites.
Autumn Leaf Café
Although this cafe in Jubilee Hills opens at 12 pm on weekdays (and at 9:00 am on weekends) – you can work out of the gazebo here. There's enough sunlight, so soak in all the Vitamin D and feel energised to work amidst a canopy of green leaves. They have free and unlimited WiFi and amazing coffee.. We're sorted!
Chit Chat Chai
Let's be honest — we all need a li'l bit of chit, chat and chai break as we work. Get a dose of freshness at Chit Chat Chai with the variety of extravagant tea flavours like Spiced Hibiscus, Peppermint, Chamomile and work away the day. The ambience will pep you up as it has a casual vibe. Not all the chairs are comfortable for work, but they do have a section for cushioned seating. You can also play carrom or foosball with your work buddies after a long day of work or during breaks.
Cannoli Café
We hear that chocolate increases productivity at work. At Cannoli Café, indulge in an abundance of chocolate options – from fondues and frappes to hot chocolate. In addition to that — get amazing bubble-teas, slushies, mocktails, continental and vegan options too here. This place is spacious, ensuring that you can work without disturbance. The ambience appeals to workaholics and there's free WiFi. Good news for all the early birds — this place opens at 7am.
The Roastery Coffee House
At this bungalow turned coffee house, you can work from outdoors or indoors. They have plenty of plants and a peaceful atmosphere. Grab a cup of freshly brewed coffee and get working. If you get hungry, you have a bunch of Continental, American and Italian cuisines to choose from. They also have a bookshelf, you can turn to during breaks. But Roastery is usually very crowded so we cannot vouch for the internet speed here.
Good Cow Café
This quaint café with its elegant decors and great coffee sets the perfect mood for a day of work. You can enjoy their free WiFi and great service while you type away on your laptop. We recommend working out of their beautifully done-up outdoor space when Summer's done. But until then, indoors, by a corner window — make yourself cosy and get on your creative hats. Don't forget to take a few minutes off your screen and read some good books from their collection.
Ci Gusta
Ci Gusta is done up with cool colours such as white and blue. Being here and having the gelatos will keep you relaxed even when you have a lot of workloads. The burgers and coffee here are amazing, and so is their entire Italian cuisine.
Starbucks
With seven outlets spread across the city — need we stress on how Starbucks is a go-to for work and coffee in all corners of the world? Order yourself a grande version of their coffee and work for hours with their free WiFi (for 7 hours). Now, if you get hungry — try their bun croissant sandwich. The Jubilee Hills outlet on Road No. 92 and the one at GVK in Banjara Hills are more crowded than the others. We personally prefer the Starbucks at Alcazar Mall as it is not only spacious and new, but also because you might run into a celeb or two as well.
So get to one of these cafés on your next work-day and make sure you don't work on a hungry stomach. Happy hustling!
Comments