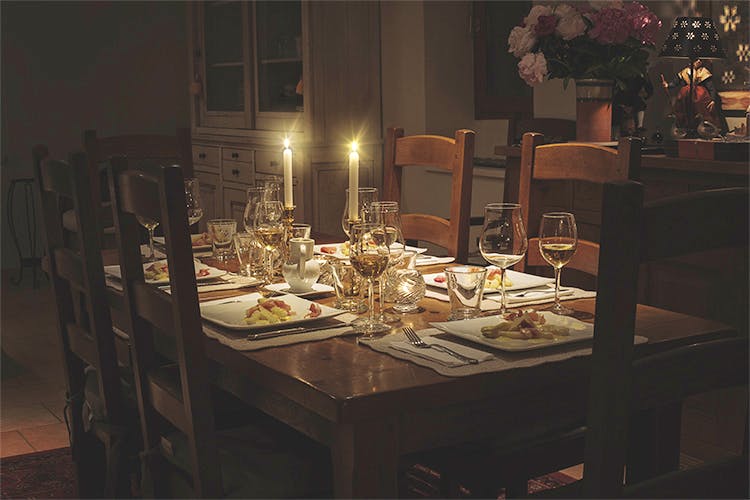 Go On A Candle Light Dinner With Bae At These Restaurants
Taking your SO out for a dinner on a special day demands elaborate planning. And of course, a restaurant that is plucked right out of a rom-com. Clueless where to find one? LBB has picked a handful of restaurants that are perfect for a candlelight dinner and also help you score brownie points with bae.
Alfresco
Alfresco in Taj Krishna is a classic favourite when it comes to candlelight dinners. The outdoor seating is by a pool and you can request a table for two right next to it. With a dance floor scene right next to the pool and sedate music that can be heard in the background, this restaurant is perfect for a slow dance or two. Don't expect bae to gush over the food as it's just alright, but the drinks and the service pretty much make up for it. But be sure to book your table in advance for them to make the necessary arrangements.
Fusion 9
If you're taking bae out for shopping at Inorbit Mall, wind up at Fusion 9 for an intimate candlelight dinner. The outdoor seating of the restaurant overlooks the Durgam Cheruv, and you can spot city lights at a distance. Although the music can be a little loud, fresh gusts of breeze can make your dinner quite lovely. Find yourself loving the oriental and continental dishes, but be sure to order a Bailey's Chocolate Mousse for dessert.
Olive Bistro
Olive Bistro has Lovestruck Wednesdays – date nights created exclusively for couples. Turning the lights off, the entire space is lit up with just candles. This Mediterranean themed restaurant is usually romantic enough for evening dates with the view of twinkling lights over Durgam Cheruvu, but we think Wednesdays will be simply irresistible now. If you're opting for the indoor seating, you can swoon to the tunes of a saxophonist playing live inside.
Mist
Mist is a poolside kitchen inside The Golconda Fort, and for once, we urge you to look beyond Jewel Of Nizam. This restaurant literally has a kitchen by the pool and it comes alive in the nights with the candles and very few lights studded around. In the mood for Chinese or Thai? You can grab them here. But we say — settle for the finger food and order some drinks as the night unravels.
La Cantina
We heart this restaurant inside Novotel Hitech City for its poolside tables, cabana seating, fairy lights, and impeccable service. Plus, it's not that crowded so bae and you can have conversations over Thai or Mexican delicacies. Here, you can dip your feet in the pool and sip on your wine. If you find bugging mosquitoes around, you can opt for their rooftop seating that is usually decked up with red heart balloons and lights. End your meal with a Tres Leches, which is simply divine here!
The Waterfront
Located on Necklace Road, The Waterfront is yet another classic that can make your evening beautiful. With live music situation going on some days, you can either take the indoor or outdoor seating. We love the outdoor as it has the view of Hussain Sagar, but mosquitoes can be a menace during the Monsoon. The restaurant has a Chinese menu, and they whip delicious Chicken Majestic and fried rice. So, if you are looking for a simple meal but want to score on views and ambience, this is your go-to. Plus, it's budget too!
Comments