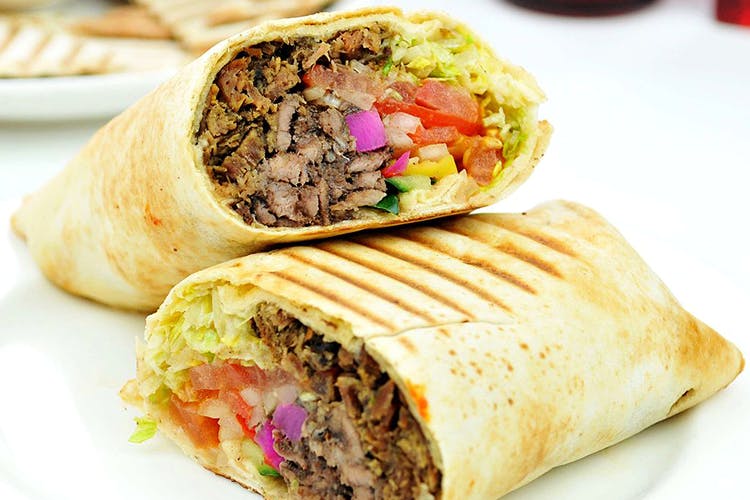 Conquer Evil & Then Eat Shawarma At This Joint In Madhapur That Is Open Till 1AM
Shortcut
Craving shawarma beyond the Cinderella hours? Chicken Shawarma Hub in Madhapur might just come to your rescue. Easy on the pocket and quick on service, this is a favourite, fo sho!
What Makes It Awesome
The fact that Chicken Shawarma Hub is open beyond midnight or late night hours is what makes it awesome. Whether you are the kind that loves digging into creamy shawarma or love yourself a full meal of Chicken Sabbah, this eatery really has everything. If you are a little too hungry, ask for a Chicken Sabbah. For the uninitiated, a Sabbah is a lot like shawarma, but with extra bits of awesomeness like grilled meat, boiled eggs, French fries, cabbage, black olives, and onions. Crunchy, juicy, and every bit filling, this costs you INR 150 only. They've got all kinds of shawarma like rumali, samoli, and kubbus as well, but if you're looking for something more than shawarma, do try their Saahan, which is shredded chicken served with fresh mayo. It really can't get better than this. The Grilled Chicken is yet another specialty that you've got to share with a large group of friends.
Vegetarians, there's falafel and French fries for you, but we recommend Manchuria in shawarma roll. If you can't eat meat, make peace with this.
What Could Be Better
This is a hole-in-the-wall place and you cannot expect a great ambience.
Pro-Tip
They have other outlets in Hyderabad. Do check out the closest one to you.