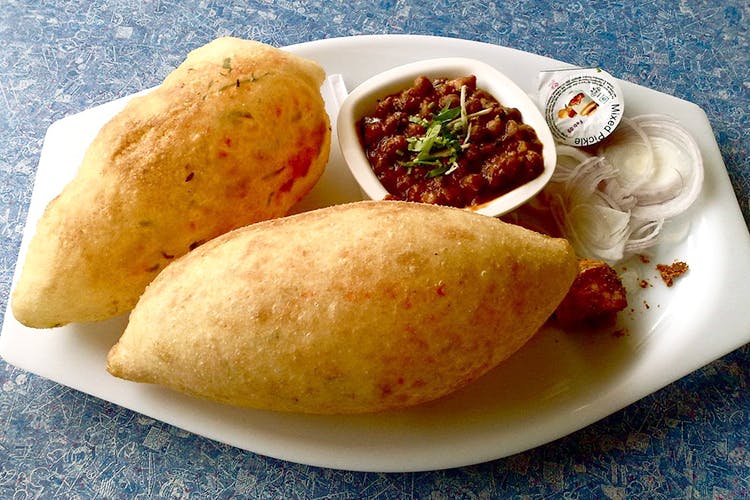 We've Tried Chole Bhature From Dadus And Bikanerwala & Here's What We Think
Hello, Hyderabad! Welcome to the third episode of This Or That. This is where we'll pit two dishes against each other or pick two restaurants and their popular dishes, and rate them for price, packaging, and taste. For our third episode, we've picked chole bhature from Dadu's and Bikanervala. Who won? Read on.

What's The Scene With Dadu's?
Dadu's has several outlets across Hyderabad, and we've ordered a plate of chole bhature for INR 150. Our bhature came packed in aluminum foil (garma garam!), and the quantity of chole was quite good. One bite and we were drooling. They've added paneer in chole which surprised us..we mean when was the last time we've seen paneer in chole or did we ever? It comes with masala aloo and onions, and this is basically a proper meal, and it was delicious till the last bite. The only downside was we weren't given any tissue paper, and knowing how messy eating chole bhature can be, we wish they took care of this.
And What About Bikanervala?
Now, the chole bhature from Bikanervala came really well packed and we liked how concise the bhature were. This came with cucumber, pickle, and onions. Priced at INR 190, we got two pieces of bhature, and a bowl of chole (Dadu's scores high on quantity). The chole was super greasy and we could barely taste anything beyond oil. Although we've tried digging into the bowl, even the bottom scoops tasted quite bitter. And oh boy, we were in for a surprise (not the good one)! We've expected Bikanervala's dish to be amazing fully knowing how delicious their meals and chaat items are.
So, Who Won?
Verdict time, peeps! This was an easy decision. Dadu's was a clear winner because they score high on both taste and price, whereas we'd vote Bikanervala slightly high on packaging as it was more practical. Does it mean we're not ordering from Bikanervala? Of course not! We'd line up at their counter for dahi bhalla or pav bhaji any day, but when it comes to chole bhature, Dadu's is our constant!
Comments