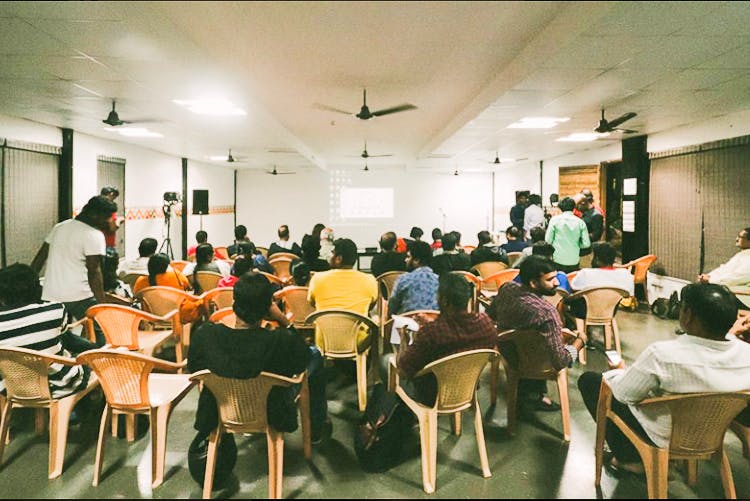 This Film Club Is Literally Bringing Global & Indie Cinema To Our Yard With Screenings And Discussions
Shortcut
What keeps you upbeat? If your answer is movies and all that talk about cinema, Cinephiles Film Club has to be on your speed dial. This club hosts regular film screenings and arranges post-screening conversations too.
What Makes It Awesome
Stories and cinema are what keeps us alive. To bring a bunch of movie lovers together, Santosh Mohan Veeranki, founder of Tale Tellers Troupe formed Cinephiles Film Club with a group of film lovers. With an intent to raise Indian cinema to global standards by bringing in a profound exposure to indie and global cinema, this club created a platform for a communal viewing of world cinema. This club meets twice a week — Wednesday and Friday. While a single movie is chosen for a week, it's first screened at Lamakaan on Wednesdays, and then at Phoenix Arena on Fridays. The club gathers for a brief introduction on the movie which is followed by the screening and then a discussion. If you often engage in intense conversations on art and cinema, the post-screening discussion is definitely something you should look forward to.
The club is known for its Anime Month, where it screened choicest of anime and as of now, they're celebrating Cinematographer's Month. While most of the chosen films are global cinema, they often play Indian indie films like Dhoolpet Ganesha. So, check out their next screening and bask in the company of fellow cinema lovers. What more can you ask for?
Pro-Tip
Most of their screenings are free and open to everyone. All you've got to do is follow their Facebook page to stay updated with the events.