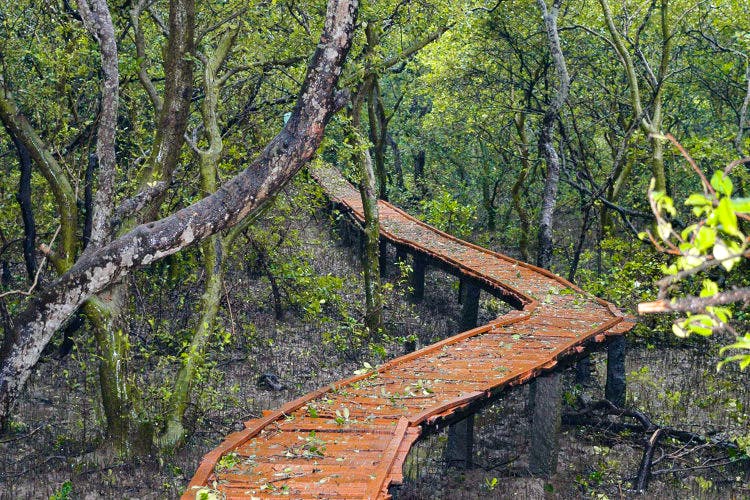 Walk Into The Wild At This Wildlife Sanctuary Located Only 10 Hours From Hyderabad
Shortcut
Go wildlife spotting and woodland wandering at Coringa Wildlife Sanctuary, located less than 500 km from Hyderabad. Indulge in boating, fishing or simply enjoy solitude amidst the natural beauty here.
What Makes It Awesome
In the East Godavari district of Andhra Pradesh, lies the second biggest mangrove forest of India — Coringa Wildlife Sanctuary. It houses a vast number of flora and fauna, including seagulls, pelicans, herons, salt water crocodiles, otters, jackals and many migratory birds as well (Bird photographers, are you listening?). If wildlife sighting isn't your thing, don't worry for there's more to do here. Go boating and fishing in the waters of the Godavari river, and visit Hope Island, after. Walk the mesmerising boardwalk to sink into the wilderness. While here, check out Adurru Excavation site for ruins of Buddhist stupas and viharas too.
There are a lot of hotels surrounding the sanctuary, so you can spend a night or two comfortably. But, do remember to carry food and drinks if you're exploring the surrounding areas.

Pro Tip
The best time to visit this wildlife sanctuary is between October and May. Avail the eco-tourism and boating packages ranging between INR 400 - INR 2,500 for an organised visit. The easiest way to get here is to take a train or flight to Rajahmundry, and then drive from there, but if you're up for a ten-hour road trip with the squad, no better way to get here than that.
Comments