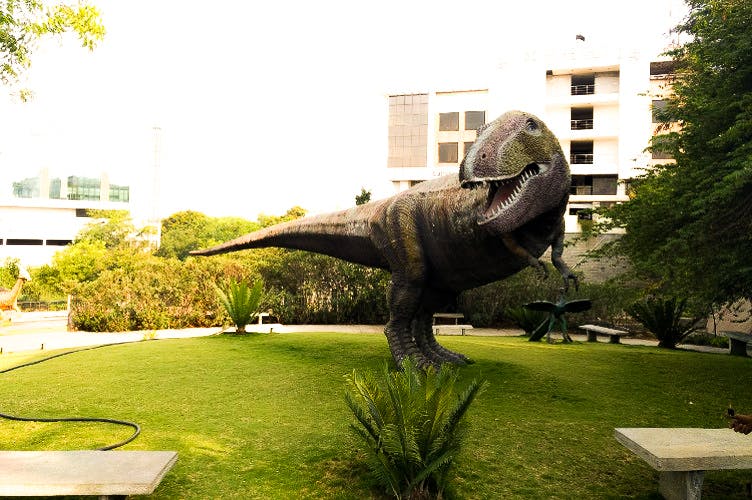 Chill With T-Rex At This Park In Banjara Hills Has Life Size Models of Dinosaurs
Shortcut
The 90s kid in us is grinning like a Cheshire Cat after visiting the Dinosaur Park located in Banjara Hills. Say hello to T-rex and get a picture taken with Velociraptor for cheap thrills.
What Makes It Awesome
Jurrasic Park fans, time for you to revel in wild joy. We found this Dinosaur Park that will make you nostalgic and bring out the child in you. Located right off the main road, this park is hiding in plain sight while offering a view of the urban jungle. When you step into the park, you might barely imagine the good surprises it holds but meander in further and you'll find the park divided into three sections that are cascaded one after the other. The first 'saur you'll meet on your way is the cheerful T-Rex; take a stroll around and give a hi-fi to Pterosaur (the flying dinosaur that rests on rock formations), and be sure to have a rendezvous with Triceratops, the herbivorous dinosaur. While the park has around 25 models of dinosaurs, it also boasts of greenery like tree ferns and it is also said to recreate plant forms like cycads, gymnosperms to resemble the Jurrasic era. In fact, in the last section of the park, a decent-sized area is scattered with myriad species of plants. We're telling you, it's a jungle out there. Walking the entire stretch of the park will barely take you 15 minutes but we urge you to keep your eyes open for the ancient-looking door, seating area under the trees etc.
Dinosaur geeks shouldn't miss this park. Parents can take their kids as well to educate them about dinosaurs, and while you're at it, be sure to pack yourself a little picnic basket. Doughnuts and cookies in the company of dinosaurs? Yes, sir!