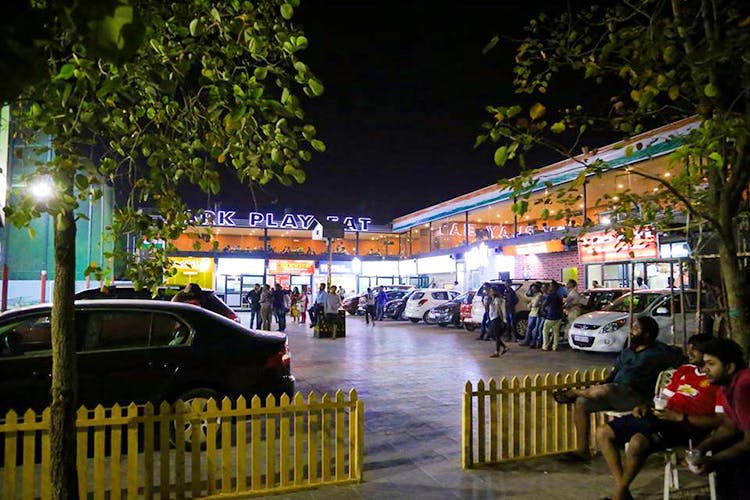 For Fun, Food & Full On Entertainment: Set Navigation To These Drive-Ins Right Away
Why settle for one eatery when you can do better by tucking into assorted munchies from different stalls at Hyderabad's many drive-ins? Whether you are in the mood for Chinese or Thai, Irani chai or old school creamy milkshakes, drive-ins spread across the city will fill in all your hunger needs like no other. So gather you squad, hop onto your vehicle, and rush to these drive-ins for fun, food and frolic.
Las Vegas Diner
Popular with the college-going crowd and known for its sports grounds, Las Vegas Diner is where you can mix your love for food and football. Although the food here is kind of standard, it's the energetic vibe of the place that is a crowd puller. After a game or two of football, indulge in the Belgian Chocolate Shake from The ThickShake Factory or ask for an Irani chai or bubble tea at The Tea Planet. The drive in is also home to Hyderabad Football Academy where kids can learn how to play football.
Carkhana Drive In
The name is a dead give away. The moment you enter Carkhana, you are engulfed in bursts of colour, a quirky ambience, and all things funky. The graffiti of cars on the walls matches the theme of the seating. For food, there's a lot you can count on. Gorge on the Lamb Bahraini Machboos or Falafel/Kibbeh Over Rice at The Halal Republic. The famous Mayur Pan House has a stall here and we think you shouldn't miss it. Try their cheese pav bhaji or bhel puri and end on a sweet note with a chocolate paan. Their mango smoothie and strawberry smoothie are equally popular, but these are seasonal.
The Street
Sans the trouble with the parking, The Street is filled with several highlights. Whatever the weather or your tummy demands, you will be spoilt for choice here. We love Chai Kahani. Although a kiosk, you can grab their Cardamom Chai or Masala Chai along with Onion Samosa and settle on a bench. Mama Mia Italia is where you should eat your heart out. Don't miss their Peri Peri Chicken and Pork Pepperoni pizzas. Cry out in love for The Fiery Chicken Wings and Barbeque Wars Wings at The Wingster. Wrap up you meal with a Kala Khatta or Oreo Brownie at Froststicks.
Kabara Drive In
Located in the prime area of Banjara Hills, Kabara is an abode to the highest number of food stalls and kiosks. The old-school ambience and the feel-at-home seating is sure to lure those who love their comfort food. The lovers of Chef Imam's signature steaks can reunite at Kabara for The Bahubali's Meals or The Sultan's Muscle Meal. Devour the juicy Dirty Love Burger and Turkish Lamb Chops. You simply have to try the Boti Kabab and Achari Machee at the Aladdin's Grill and the Quattro Formagi Pizza and Lamb Pepperoni Overload Pizza at the Pietza Pizza.
The Joint
The Joint claims that 'Great taste must be shared'. Well, amen to that! Flanked by greenery on all sides, the vibrant ambience is a meticulous mix of contemporary art and charming lights. More of a diner than a drive-in, Joint houses unique eateries to satiate different palates. If sushi is your jam, do the right thing by ordering California Maki Sushi or Karai Akami along with Wasabi Prawn Dim Sums at Hashi. At the 10D Express, try the Shepherd's Pie or Vegetable Lasagna. Their pocket-friendly combos come with soup and ice cream too. The Mumbai Masala Cutting Chai and Pahadi Chai at Chai Pani can sort your chai cravings instantly but it's their Paneer Pakoda and Bun Pav Bhaji that takes the cake. Finish off you epic meal with Banana Caramel Whip or Gulab Jamun and Cardamom Slice at Batter Tales.
LA Foresta
Now here's a drive in that brings you food with a dash of gaming. LA Foresta in Dilsuknagar has a Playstation Cafe (PS Club) where you can play your way to glory and head to nibble on their best. Interested in binge eating? Here's what you get. Skip through everything The Wingster has to offer and eat the Wings Of Fire (the spiciest chicken wings out there) and over weekends, they also have a Wings Challenge where you've got to eat their eight types of wings in five minutes. For those Indo-Chinese lovers, there's a Bruce Lee's Kitchen that rustles noodles, Manchurian, and fried rice. Want to go for a Mandi with your squad? La Yum Yum Tree is sure to fill those needs. This outlet also has Fish Grill Mandi, which isn't usually found everywhere.
Comments