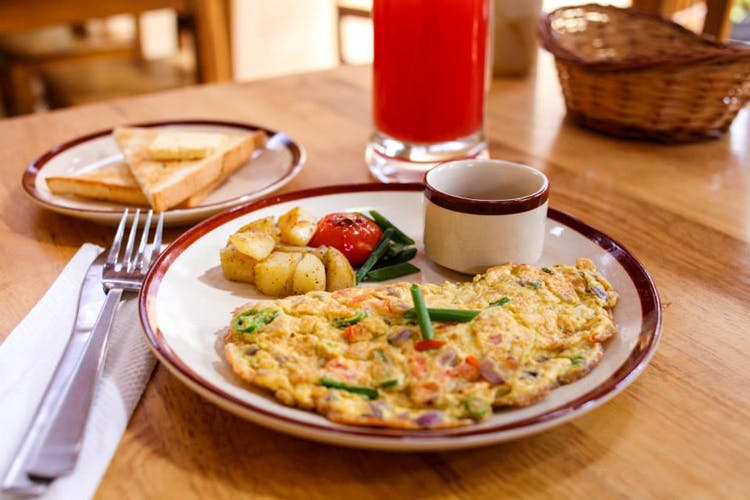 Brekkie Time! Get Your Fix Of Big, Fat Breakfasts In Hyderabad
If you are like Winnie the Pooh who thinks breakfast is the most exciting part of the day, then jump on to our breakfast wagon that'll help you dash through the streets of Hyderabad for the best breakfasts in town. Whether your stomach demands hearty fry ups or solid old Indian goodness, here's a guide that properly sorts the beginning of your day. Get set to break bread at these hearty brekkies.
Ofen
We love Ofen for its trim cottage-like vibe and all day breakfast. Plucked right out of Hansel and Gretel, Ofen is where you should head to for its Spinach, Potato and Cheese platter that comes with sauteed spinach, grated potatoes, grilled tomatoes, hash brown, and toast. We also recommend the Baked Beans On Toast here along with an Americano or Moroccan Mint tea. Let your food arrive, and then you can fish out a book or music of your choice to pump up the day.
Tollgate
If themed restaurants are what it takes to push you a little out of your comfort zone, then Tollgate is where you should eat. The walls are done with graffiti of cars and props of car steerings, brakes, and parts of cars. We tried their ode to Presley, The Elvis, which is a sandwich made out of layers of peanut butter and banana and we loved it. Their eggy dishes like Egg Gigolo (sauteed spinach, feta, and egg stuffed between freshly buttered buns), Cheesy Gooey Omelette (a simple and fluffy omelette that drips with cheese). Opt for filter coffee or fresh carrot juice, and prep for the day.
Whiteboard Cafe
Think of crisp white-washed walls, cushy seating with bright cushions, inspirational quotes on walls, and quirky conference rooms and work zones for you and your mates to work in peace. As a primary hangout for techies in Hi-tech City, Whiteboard (a vegetarian cafe) has been wowing us with its delightful indo-western delicacies that'll keep you hooked for their lunch too. Order their Beautiful Broccoli (a paratha stuffed with broccoli, herbs, chili flakes) and Fighting Fit, a wholesome smoothie of beetroot, seasonal berries, apples, and grapes. If you're chowing here, the chances of starting your day with Vidya Vox are super high.
Santè Spa Cuisine
Walk into Santè Spa and get enamoured by the stunning ambiance. The sunny, shady outdoor seating is flanked with greenery on all sides while the interiors are rustic and Zen-like with a giant Buddha picture. The breakfast at Santè Spa is rich but healthy. Right from Activated Charcoal Bread Basket to Matcha Pina Colada Smoothie to the best pancakes in the city, this place will keep beckoning you for more. Ask for an upma made with quinoa and broccoli or Chicken Masala Omelette that's served with baby potatoes and toast. The coffee machine can have a starting trouble first thing in the morning, but patience is the key, my friend! Also, this is where you should be for spotting celebrities and all.
Beyond Coffee
Beyond Coffee is one of the first cafes to foray into the American breakfast scene and has been owning it ever since. With wonderful paintings hung on its wall which are also put on sale, this cafe can inspire the artist in you. Go for the ambiance and Crispy Bacon Egg that's served with pancakes. We also love the Omelettes with three fillings of our choice — try the cheese, sausage, and mushroom fillings and ask for a Blueberry Muffin to end the breakfast on the note of a sweet jazz.
Coffee Cup
Red-brick walls, framed pictures of superheroes, loud but great music, and vintage looking seating — at Coffee Cup, no day is the same. Tucked in a residential area of Secunderabad, this cafe has been a favourite pick to shoot not just documentaries and short films, but also major feature films. Their breakfast options are simple to pick from. There's Continental Breakfast that comes with choices of chicken, egg, and vegetarian. Or plain old egg and toast. Served with grilled tomatoes (the best) and sauteed mushroom, this platter is sure to fill your tum. Order their Ethiopian Khawa or Latte Cinnamon Dust and lose yourself in them.
The Hole In The Wall Cafe
The Hole In The Wall Cafe is really a hole in the wall that opens up to a stunning cafe with rocky outdoors, table with swings as seating, interiors with books, and vibrant walls. We heart this cafe for its Veggie Pizza Omelette where egg acts like a pizza base with vegetables and olives as toppings and The Golden Frittata Mix (egg frittata with mushroom, jalapenos, spinach, and more). You can also choose between their Chocolate Waffles or Blueberry Cheesecake Waffles. But don't just take our word for it because this cafe has tons of breakfast options. Go eat and tell us what you like!
Comments