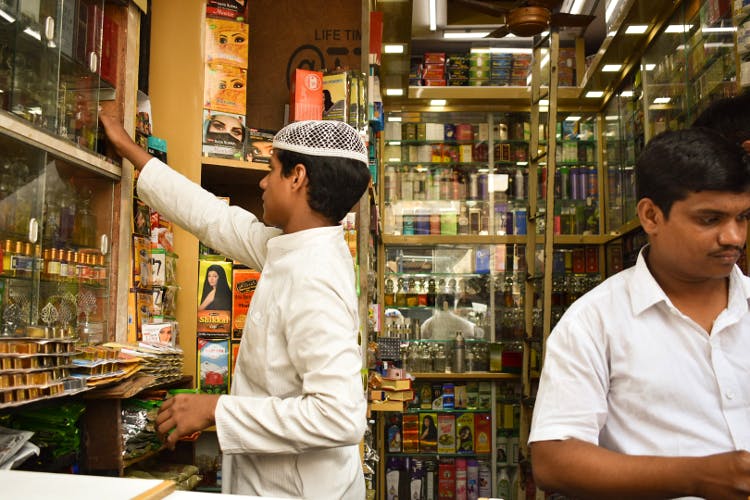 Get A Whiff Of That: This Perfumer In Old City Can Recreate Any of Your Favourite Scents
Shortcut
Famous Perfumery Centre in Old City is a pioneer in blending fragrances of any kind. Bring a fragrance from any part of the world and these perfume experts will recreate the scent for you. If you are planning to visit Charminar, don't miss out on this.
What Makes It Awesome
Old City's Famous Perfumery Centre has been around since the 50's. Customers are pretty much on the streets, and it is very chaotic because they're smelling the liquids, requesting a particular fragrance, or gazing at the beautiful glass bottles. Across the counter, the store is a giant but simple box with racks hoarding several bottles of perfume. The perfumes all come from different corners of the world like Dubai and France. Then there are those made at home, right here in Hyderabad. Authentic aromas freshly blended by these perfume masters and sold in large numbers. These are a combination of natural blends and synthetic blends made using skin-friendly compounds.
Some of the scents that have been blended with an Arabic texture include names like Danish, Marwan, Crystal, Simra, Jannet Ul Firdous, Motia, Arsh, and Faraz. Out of these Marwan, Crystal, and Simra are the bestselling ones, we hear. They also have Kashish, an ittar made from a variety of flowers. This is one scent that keeps bringing people back to Famous Perfumery Centre apparently.
Another reason why this perfumery is famous is because it can give your favourite scent a personal touch based on what you like. If you think your favourite perfume would smell better with a dash of jasmine — no worries! Get it to Famous Perfumery and they will make a brand new scent for you exactly like that. If you want to re-create a favourite perfume too (from any part of the world) — you can bring it to their store, and they can make a 90 per cent accurate replica of the same apparently. If that is not reason enough to hit their store ASAP, we don't know what is! The good news is that at Famous Perfumery Centre prices start at a mere INR 40, but can go up to a whopping INR 12,000 (for 10 grams). They sell in sizes between 3ml to 500ml, or you can request a specific quantity and place a bulk order.
Pro-Tip
Among other things sold here, you can find henna cones, fuller's earth packs, hair oil, and the likes.
Comments