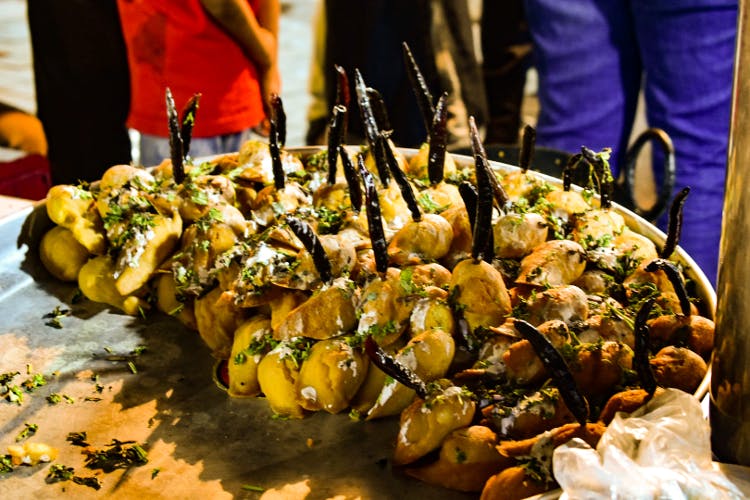 Pizza Dosas To Bamboo Chicken: Why The Food Truck Scene At IDL Lake Is Boss
Line up at the Kukatpally IDL Lake by sunset to munch on Bamboo Chicken and Egg Rolls from nearly 15-20 food trucks that gather daily to cater to your snacking needs. You will be spoilt for choice with more than a hundred types of dosa alone. And there are shawarma, chicken wings, and Irani chai to be consumed too. Call it a night, by counting stars and your pennies, and then finish your street food crawl with an an ice cream. But before you leave, grab a chair, and watch the sunset.
The Shawarma Food Truck
Your first stop needs to be at the Shawarma Food Truck. The slow-cooked meat wrapped in a pita roll with freshly-cut vegetables comes loaded with creamy mayo. For vegetarians, there's always the Falafel Wrap — don't forget to ask for extra mayo.
Mahi's Dosa Truck
At Mahi's Dosa Truck, there are always several versions of dosas to choose from including a whacky pizza version. Try the Egg Dosa, the Kheema Dosa, and the Pizza Dosa with a twist. We warn you, the array of chutneys aren't for the faint-hearted. If you love a bit of adventure, go for the Pizza Dosa or the Rava Paneer Dosa with chili chutney. Keep a bottle of water handy because you are going to desperately need it once you are through a spicy meal here.
Chef's Weapons
Mounted behind a Royal Classic Enfield is this barbecue joint that offers Chicken Wings and Chicken Strips. The roasting of the meat can take some time, so hold your horses and your appetite till your juicy Chicken Wings arrive, fresh off the grill. Not enticing enough? No problem, check the bike out and move on.
Eating Buddha
Known for its unconventional Banana Dosa, this fun-coloured food truck totally ups the game by offering food that appeases different palates. Don't miss out on their Chicken Majestic (INR 90) and Ginger Chicken (INR 80). While you are at it, try out the noodles too. They say their claim to fame is their mixed fruit dosa and cocktail dosa (INR 100 each).
Hot Hot Samosa
If you are in the mood for something simple, settle for a cup or two of Irani chai and onion samosa. Your love affair with the Hyderabadi version of samosa is sure to begin here.
Bamboo Chicken
The Bamboo Chicken guy can be found only on a few days in a week. You will spot him huddled in one corner with a bunch of bamboo shoots in hand. He stuffs the bamboo with succulent chunks of chicken marinated in a secret masala and then grills them on charcoal. The end result is juicy pieces of chicken fragrant with a signature smokiness of the bamboo sap. Plus a squeeze of lime and onions complete this awesome snack.
#LBBTip
Only cash or Paytm is accepted here. So keep your cards at home.
Comments