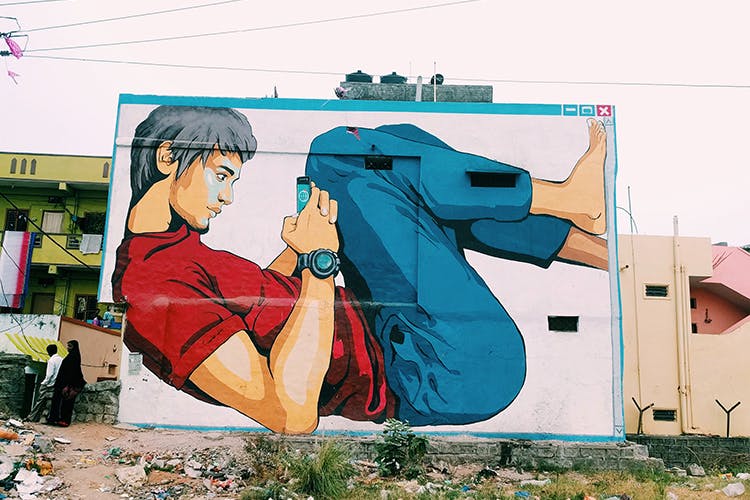 No Money, No Cry: Experiences In Hyderabad That Cost Nothing
They say there are no free lunches in life. But we'll tell you otherwise. We all have days when the account balance is alarmingly low or it's those end-of-the-month situations when the salary day is far, far away. Wondering how to still have a social life and make the most of this beautiful city? Here are some of LBB's favourite things to do around the city for absolutely free.
Walk The Talk With Hyderabad Trails
Sign up for heritage walks and gatherings by Hyderabad Trails (they do conduct some free walks, so keep track of those on their Facebook page), which will help you discover the hidden gems and unknown stories of your city. Sign up for one of their walks for free and turn up with plenty of water and a pair of good shoes. You might be in fine company of musicians and artists who might accompany you for these walks. Plus, isn't this a great way of meeting people too?
Hang With Doggo At The City's Only Dog Park At Necklace Road
Homie, it's time for plenty of cuddles. Take your pet or go by yourself to the Dogs Park at Necklace Road and find new playmates. You'll be surrounded by children, and pets running around in joy. The park also puts up adoption information —if you've been looking to adopt one, now is the time.
Indulge In An Afternoon Of Art At Kalakriti Art Gallery
Kalakriti hosts a huge range of activities and events that you shouldn't miss and plenty of it is at no cost whatsoever. Be it photography exhibitions, book launches, or play, you can take part or check it out for free. If you're looking for solitude, simply take your sketching kit and doodle away here.
Attend Poetry Reading And Book Launches At Lamakaan
Fond of literature? Then, make your way to Lamakaan — one of the city's favourite cultural spaces. Unwind after a long day at their poetry recitals or discover new reads and make to-do reading lists. But be sure to check their Facebook page here because you'll find several free events that will catch your eye. Experience the real vibe of Hyderabad by paying absolutely nothing!
Wednesday Ladies Night at 10 Downing Street
With the DJ playing high octane tumes and free drinks on the house for women, Wednesdays are when you go wild, ladies! Ring your girl gang and sashay into 10D for a quality time with your mains.
Check Out Street Art By St+art India
Hyderabad is South India's most emerging destinations as far as street art is concerned. St+Art India India had its first street art festival in the city last year and spaces between Makhta and Necklace Road became the canvas for several awesome artists. Start with Necklace Road's St+art India project walls. You'll find colourful, thought-provoking, and humourous art. Wander away and discover walls that can feature in your pictures, forever. These walls are super insta-worthy!
Comments