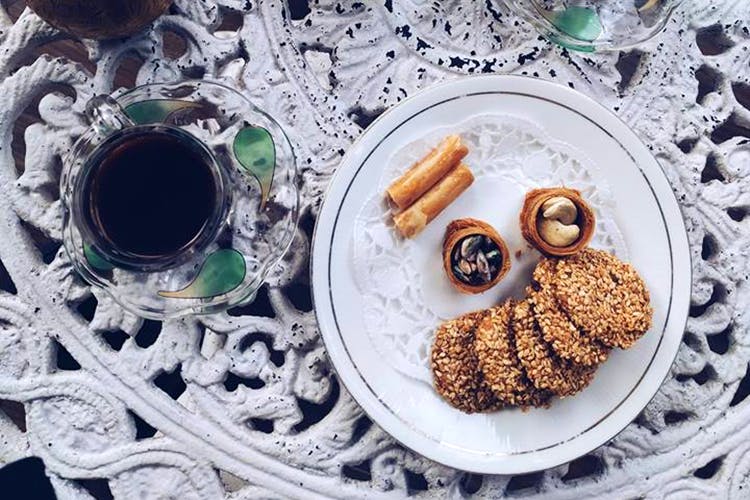 Turkish Coffee, Baklava & Kunafa: This Banjara Hills Bakery Is Middle Eastern Dessert Heaven
Shortcut
From cheesy kunafa to steaming cups of Turkish coffee, drop everything and head over Gourmet Baklava, a quaint bakery in Banjara Hills for a taste of the exotic.
What Makes It Awesome
Treat yourself to a ginormous amount of baklava varieties and lose yourself at this sweet spot. Baklava, a dessert made of layers of filo and filled with chopped nuts is held together by honey or sugar syrup. At Gourmet Baklava, you'll find many kinds of it. This is also where you can find sweet treats from Lebanon, Jordan, Morocco and a whole host of other Middle Eastern and Mediterranean countries. Although its coffee and machinery are imported from Turkey, the real magic lies in the hands of its chef who is also from the Middle East apparently.
The bakery comes with several quaint and pretty corners. The French-inspired creamy white doors and windows welcome you into a sweet-smelling world, far removed from the world outside. The fancy assortment of desserts at the counter is a different matter altogether. We sampled a few of them including walnut baklava, pista baklava, Warbatt Turkiya, a filo puff with a creamy filling, Cashew Baklava, and absolutely loved the flavours and the textures. Slightly crispy and flaky on the outside, they're extremely soft or gooey on the inside. You will also find the popular Turkish Delight here (anyone else getting a Narnia reference?), those awesome jelly cubes flavoured with rose water and orange blossom water and dusted with sugar. These are apparently imported from Turkey come in flavours of rose, hazelnut, and more taste. The other dessert worth a mention is their Cheese Kunafa, a filo pastry dough filled with cheese and cream and soaked through with rosewater and syrup.
Pro-Tip
Definitely ask for the Turkish coffee here — a strong black coffee, served in a cezve, a coffee pot specifically designed for Turkish coffee, along with Bazarik, cookies topped with sesame seeds. We say, grab a seat by the window, let the world outside pass by as you sip your coffee. But before you leave, check out the vintage lamp post at the entrance. It's totally Instagram-worthy!

Comments