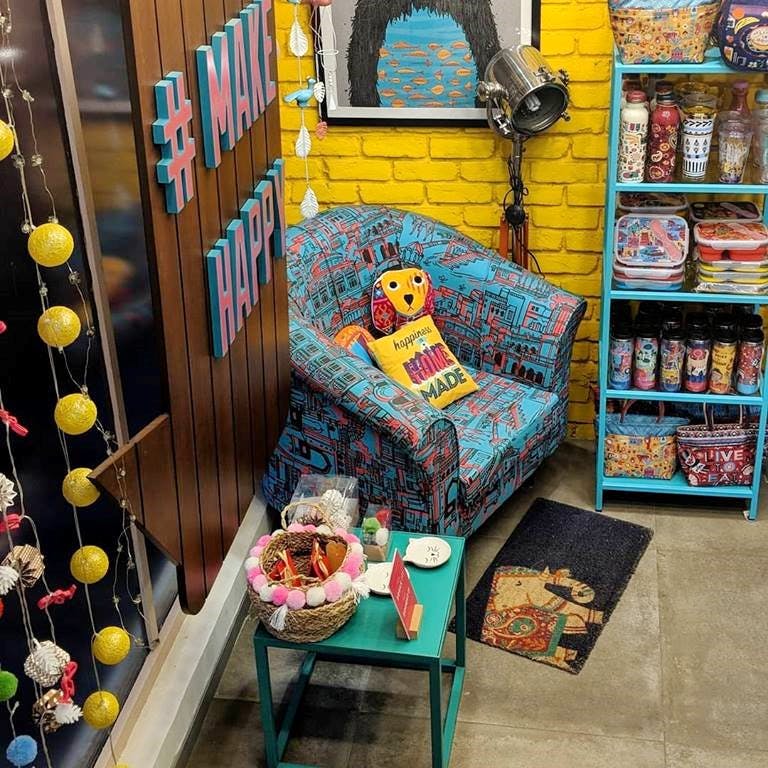 Chumbak, Satya Paul & Aldo: Here's Where To Shop At GVK One Mall
It is a known fact that a fresh hoard of malls has opened up across Hyderabad, but somedays, we love going back to GVK One Mall in Banjara Hills. For one thing, this is where we shopped our first MANGO, ALDO, and Promod before we found them online. Plus, they've opened quite a few new stores too. So, if you are planning to visit GVK, gawk at the massive aquarium, and then go shop your heart out, here's a list of stores (our constants) that you can check out.
Chumbak
To walk around in Chumbak is a lot like sauntering in fairytale land. The super-cheery products are sure to bring an instant smile to your face. Cupcake crockery, funky bobbleheads, dainty storage boxes, and flamingo-shaped jewellery holders, Chumbak has brought its bestsellers to the city. Think of quirky notebooks, wallets, kitschy watches, printed T-shirts. We're totally loving the bags and footwear collection that also have the famous owl-printed merchandise that Chumbak is known for. We found ourselves some good love in the form of squishy cushions, Bohemian earrings, sunglass boxes. Do check their travel collection too.

Poparazzi
Fixing all our pop culture needs, Poparazzi has handicrafts, funky stationery, jewellery that are totally pocket-friendly. The store is divided section-wise — home decor pieces and kitchenware to one side and accessories (jewellery & bags) to the opposite. We loved the Mandala art clutches and the handbags with prints of women wearing jhumkas and veils are must-have. Know more about what you can buy here.

Satya Paul
Make your way to Satya Paul for dreamy scarves or printed handbags. We usually cannot get over the scarves that can transform even a plain outfit to a lovely one, but if you're looking for a stand out collection, it's the sarees. Elegant, youthful, and classy — find them all under one roof. Want more? Check out the kaftans while you're there.
Meds N Mart
Previously known as Medicines & More, Meds N Mart has been our constant (for ages now) for picking up luxe products. It is the only store in the city to have such a huge collection of BBWorks, Victoria's Secret, which we also know are legit because the market is overflowing with fake counterparts. It also has lotions from Calvin & Klein. The price range of these products is usually INR 1,600 and upwards.
Armani Exchange
Don't mind the occasional splurge? Armani Exchange has to be your cue. From suave jackets to tan tote bags, you can load up on a lot. Whether you like accessories or clothing, there's something for everyone. Don't forget to check out casuals like T-shirts because they come in classic whites, greys, and blacks that we think are perfect for any time of the day. Even for those who love showing up, minimally.
Vero Moda
We have mixed feelings whenever we walk into this outlet of Vero Moda because it housed our favourite Promod, at one point in time. We love how colour-coordinated and well-stocked this outlet is. Partywear on your mind? You're sure to find aisles of them. Prefer VM's formals? No problem, there's plenty for you to check out. Plus, we really do like the accessories here.
Aldo
We are definitely one of those who wait for Aldo to announce its sales. And why not? They put up beautiful boots and bags on sale, and we cannot resist them a bit. If you love chunky bracelets and statement neckpieces, there are enough reasons for you to get here. Don't forget to check out the entire footwear collection.
MAC
Are you more of a Ruby Woo or Relentlessly Red? Whatever is your choice, if MAC is your haven, get to this store. This is one of the largest MAC stores in Hyderabad. From the latest Disha Patani kits to the iconic MAC beauties, as much as this store has it all, it's also one of those stores that sell out pretty fast! Yup, that's the only caveat but the chances of finding whichever MAC product you're looking for are high.
Crossword
Crossword has massive sales on most of its books across the year, and at this outlet, it's even better. There's a CCD inside for those of you who prefer to sit with a book and cuppa (both the coffee and service are flimsy, and go for it, only if it's not a big deal). Find stationery, apparel, travel edit, and magazines at this store, but if you're around, check out the sale section where there's either one plus one or 50 per cent off on books.
Hidesign
Handcrafted leather makes you go weak in the knees? This Pondicherry-based brand has quite a following in Hyderabad, and if you want to grab yourself a bag, head over to Hidesign. Say hello to stunning handbags or check out those lovely pens. Either way, you'll find yourself gawking at the pieces for a long time. Men can shop for wallets, belts, messenger bags, saddle bags, and more.
Forest Essentials
Walking into any Forest Essentials store is like aromatherapy. This is one of the first Forest Essentials stores to have opened up in Hyderabad, and whether you're looking for bath and body products or skincare range, this luxury Ayurveda brand has them all. Planning to gift someone? Their gift boxes should make any girl happy.
Comments