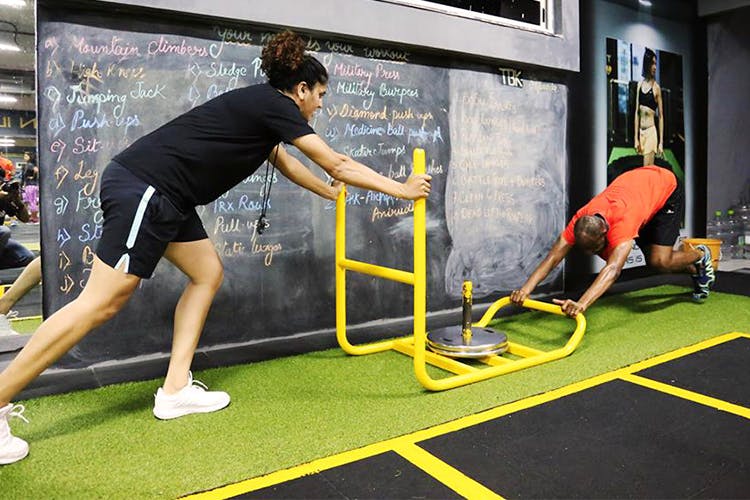 Fit-less to Fitness! Sweat Out At These Gyms Near Himayathnagar Under INR 3,000 A Month
If you thought losing weight and to achieve that dream body costs a hell lot of money, then we are going to prove you wrong — in a good way, of course. If you stay anywhere near Himayathnagar, hit up these fitness options and sweat it off. And all of it, under INR 3,000 a month.
Fitness 9 Gym
If working out at the gym dulls you down because everyone keeps to themselves, this gym will prove you wrong. You can indulge in some cardio, bodybuilding, functional training, Zumba, kickboxing, etc under trained professionals and they will help you sweat the lethargy out. Are you one of those people who have trouble following a diet? Fitness 9 gym also offers tailor-made diet challenges where they give you a new diet every week along with high-intensity training and timely weight checks. Who can stop you from getting that gym body now, amirite? This place is worth every penny for INR 2,500 per month.

Pulse8 Elite Gym
We know people who have been going to this gym for 2 years now and they're nothing but satisfied with their results. Good equipment, knowledgeable trainers and workouts created exclusively for your body, at this lively gym you can achieve body goals. Weight training to cardio to core strengthening, workout under professional guidance at INR 2,500 a month.
Next Level Fitness
Get trained by experts who are certified from ACSM (American College of Sports Medicine) and EIF (European Institute of Fitness) for INR 1,500 a month. We are damn serious! People at NFL want you to enjoy working out and shed those extra pounds. Super cardio, muscle definition, weight training, etc with the best pieces of equipment in an uplifting environment is what seals the deal for everyone, right? Check out this gym and flaunt that bod!

Pulse Fitness Studio
Honestly, we've heard great things about this gym for all the right reasons — strength training, cardio, personal training, and great vibes. With constant encouragement, weight and flexibility checks, for INR 1,700 per month, this place is perfect if holistic workouts to build endurance is what you're looking for. You're welcome!

Kalpaata Fitness Studio
If you're not the gym type, check out this fitness studio in Himayathnagar where you dance your way to a fitter life. We're talking about Zumba which is a high-intensity workout with vigorous dance moves. At just INR1,800 for a month (20 sessions), dance away the extra pounds.

Comments