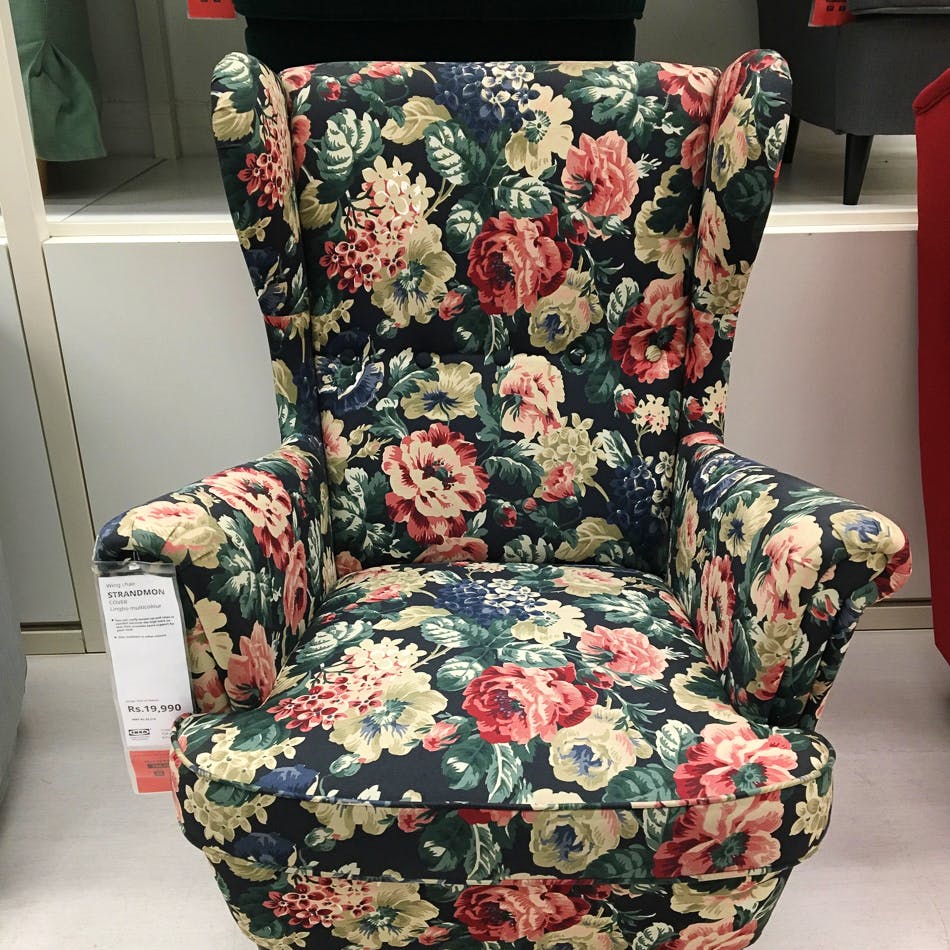 We Went Shopping At Ikea & Now We're Revamping Our Room
You know you've been staring at your lackluster room all year, so maybe it is time to spice up things. You keep telling yourself you're going to clean it up (maybe tomorrow?) — so while you're at it, why not make it more warm and personal? Your fairy godmother in this scenario goes by the name of IKEA.

UNGDRILL Frame - INR 999
This frame with an ivory-white finish is the perfect addition to your photo wall to make it more picturesque. You can either use to it frame personal pictures or play around with the aesthetic and frame some art.
NYMO Lamp shade - INR 270
Suspend this lamp shade from the ceiling to give the illusion of more space in the room. We recommend a bright yellow bulb so the light shining through the half moon cuts in the lamp is emphasised.
STRANDMON Wing chair - INR 19,990
This chair is definitely an investment. The plush cushion and the floral print had us going gaga over it. This addition is sure to change the look of your room and add some colour to it. You will also have someplace else to chill other than on your bed.
SKADIS Pegboard - INR 1,200
This pegboard can be hung to a wall or put on your study table, either way, it is a very useful addition to the room. You can utilise it as a planner, where you can stick your to-do lists or important pieces of paper, or just space where you can hang your art.

BYLLAN Laptop support - INR 999
This quirky laptop support is cushiony AND sturdy. We've finally found a comfortable way to sit with our laptops on our laps, without burning our thighs.
KARMSUND Standing mirror - INR 4,490
Full-length mirrors in rooms are a must-have. You can place this mirror anywhere in the room and add some fairy lights around it to make it extra pretty. So now you can check out your OOTD in style.
MALM Chest of 6 drawers - INR 10,490
Running out of storage space? This elegant off-white chest is perfect for you. It is compact and you can jazz it up by putting a lamp or a flower vase on top of it.
FLISAT Doll's house wall shelf - INR 2,490
This unique doll's house wall shelf is a quirky way to display your books. It is easily accessible and can be fitted anywhere in your room. So why limit the books to just a table when you have such a cool way of storing them now.
KLIPSK Bed tray - INR 599
This sturdy bed tray is perfect for when you just want to lay in bed and work or read, sipping a cup of tea without the danger of spilling it. Plus, it is so pocket-friendly.
Ask Ananya a question